Our Man in Neologia
Created | Updated Dec 7, 2006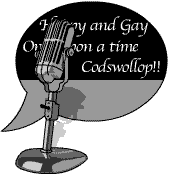 Once again the uncharted backwaters of Neologia are proving to be a fertile hunting ground. Remember, these words need your support to ensure that they are fully integrated and can go on to have a fulfilling and useful role. If you come across any words that you think deserve a new life, please start a conversation below this Entry. New suggestions may be included in a future edition of The Post.
For Your Consideration...
CAGE (verb) — to overact excessively, usually accompanied by wild gestures and spectacular gurning.
Origin: After the actor Nicholas Cage, whose style tends toward the, erm, flamboyant.
Example: The amateur production was not too bad, apart from some cageing by the young lead.
ROBINSON (noun) — a hopelessly lost cause.
Origin: Named after Tony Robinson, who regularly appears on our screens trying to make archeology 'sexy'.
Example: Training dogs using lettuce leaves as rewards was proving to be a total robinson.