The h2g2 Poem
Created | Updated Oct 17, 2003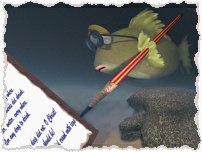 A State of Mind

Whatever happened to the brash
Crass bright young thing that I was?

Too scared and confused by life to do anything

But be astringent and flippant.

Too angry and incensed by life to be anything

But scathingly honest, scattering my sparks

Of brightly flaming picture words,

Illuminating pain, backlighting the spirit

Nihil Illegittimi Carborundum Est, I vowed.

And they didn't - at least, not while I was looking.

But twenty years on from the 17-year-old idealist

I'm finding it harder to crawl back to my knees

And allow life to kick me in the teeth yet again.

I still get up though... I still get up.

One day, when all my teeth have gone, I shall still mumble

And salivate inarticulate protests against life's injutices

And if still the bitch continues to hurt

Why, then I'll gum her to death!

There are some things about me I do not want to change.