Sporting With Egon
Created | Updated Mar 19, 2004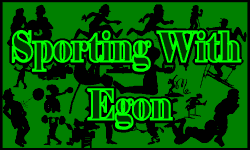 This week in Sporting With Egon - .
Hayden breaks records
In the past weeek, at the WACA in Perth, Western Australia, Australian cricketer Matthew Hayden put in one of the best individual batting performances of all time as the best team in World cricket battered Zimbabwe into oblivion.
It all started with a horrendous decision by Zimbabwean captain Heath Streak. Having won the toss, Streak chose to field. It would turn out to be an even worse decision than the similar one taken by then England captain Nasser Hussain during the Brisbane test match in last season's Ashes series
On Day 1, Australia made a good start, Hayden reaching a big score of 183 not out by the end of the day. On day two, he found a worthy partner in Adam Gilchrist, who passed a hundred at the other end.
Hayden, meanwhile, rattled past 200, quite an achievement in test cricket, even for an Australian opener. But the former Northamptonshire man wasn't finished. He effortlessly passed 300, offering barely a chance en route.
At this point, he was getting close to the all-time Australian test batting record - 334, shared by the legendary late, great Sir Donald Bradman, and 1990s captain Mark Taylor.
Hayden swiftly passed this landmark and kept going. He passed the fourth best test score ever, Sanath Jayasuriya's 340 for Sri Lanka against India in 1997. He passed Len Hutton's former world record 364, scored for England against Australia in 1938. Next up was Garfield Sober's 365, scored when the West Indies played Pakistan in 1957.
So Hayden had bassed 365, to go second in the all time list. By tea he had 372, just three less than Brian Lara's world record 375 for the West Indies against England in 1994.
Coming back after tea, Hayden hit the first ball of the evening session, bowled by Trevor Gripper, through the onside for four. He had the 376. He had the world test record. Second ball - hammered for four over long-on. 380. Third ball - out. If he'd modified his game, played more defensively, he would have got to 400, of that I have no doubt. But that wouldn't be the Australian way. He didn't give up on the relentless attacking flair, and Australia went on to win the match by an innings and 175 runs, having declared the moment Hayden was out for a whopping 735-6.
The vital statistics for Hayden's whopping world test record are as follows: 380 runs from 438 balls faced while at the crease for 622 minutes, hitting 38 fours and 11 sixes. The current Australian cricket team is amongst the best cricket teams ever. This performance by a man who couldn't get a regular place until three or four years ago shows why.
The FA v Rio Ferdinand
Now, as I mentioned last week, Rio Ferdinand is in trouble with the FA over not taking a drugs test. He says he forgot and took a test 36 hours later. Well, 36 hours is enough time for recreational drugs, and some performance-enhancing drugs, to leave the system. It's enough time to pump an undetectable masking agent into the blood to prevent the drugs being detected.
I am not suggesting for one minute that Rio Ferdinand is on drugs. But he didn't take the test. If he was a British track and field athlete, he'd be banned for two years now, and ineligible for Olympic selection by the British team for life. That's how seriously most sports take drug testing. If you don't turn up, you've broken the rules, and you should accept you're punishment. Footballers have to learn to respect the seriousness of drug-testing protocol.
EUROPEAN CHAMPIONSHIP FOOTBALL QUALIFICATION
The final round of European championship football qualifying took place this weekend. Let me remind you of the format of the European Championships, as outlined by me last week:
Okay, there will be 16 teams in the finals next year in Portugal. Divided into 4 groups of four, the top 2 qualify from each group to take part in a knockout tournament. Portugal have already qualified as hosts, and the remaining 15 places are allocated in this qualification tournament - 10 groups of either five nations per group. The top team in each group join Portugal in the finals (taking the total to 11). The ten second-placed teams are drawn against each other randomly in five play-off games, and the five play-off winners take the five remaining places.
Right, got that? Well, England qualified automatically after their 0-0 draw with Turkey, which featured a balooned penalty by David Beckham, who slipped while taking the penalty, and whose shot ended up resembling Jonny Wilkinson's conversion attempts in Rugby. The game also featured a brawl at half-time, with Turkey's Alpay apparently at the centre. Alpay got blasted by his own goalkeeper Rustu for his role in the incident. Alpay had been having a spat with Beckham for most of the first half, but after referee Pierluigi Collina gave them both a damn good talking to in his office at half-time they behaved themselves. It was a blessing really that Collina, the best referee in the world, and the author of a very good book, The Rules of the Game, was in charge - he replaced Danish referee Kim Milton Nielson, who had been scheduled to referee the match, but who had suffered an injury the previous week. If Collina hadn't dealt with the match as well as he did, there could have been a very, very serious incident amongst the players.
Scotland and Wales qualified for the playoffs; Scotland defeating Liechtenstein in their final game, and Wales losing to Serbia-Montenegro, but maintaining second place in their group behind Italy. Wales play Russia in the two-legged playoff, while Scotland have a very difficult tie with Holland.
GROUP 1

Automatic qualifiers: France. Playoff: Slovenia.
GROUP 2

Automatic qualifiers: Denmark. Playoff: Norway.
GROUP 3

Automatic qualifiers: Czech Republic. Playoff: Holland.
GROUP 4

Automatic qualifiers: Sweden. Playoff: Latvia.
GROUP 5

Automatic qualifiers: Germany. Playoff: Scotland.
GROUP 6

Automatic qualifiers: Greece. Playoff: Spain.
GROUP 7

Automatic qualifiers: England. Playoff: Turkey.
GROUP 8

Automatic qualifiers: Bulgaria. Playoff: Croatia.
GROUP 9

Automatic qualifiers: Italy. Playoff: Wales.
GROUP 10

Automatic qualifiers: Switzerland. Playoff: Russia.
So, the eleven teams already through to Euro 2004 are: Portugal, France, Denmark, Czech Republic, Sweden, Germany, Greece, England, Bulgaria, Italy and Switzerland.
The remaining five will emerge from the playoffs, the draw for which is as follows:
Latvia v Turkey
Scotland v Holland
Croatia v Slovenia
Russia v Wales
Spain v Norway
First leg matches- 15/16 November, second legs 18/19 November
MARTINA NAVRATILOVA
Martina Navratilova, possibly the greatest female tennis player of all time1 will return to the US Fed Cup team next month at the age of 47. She has been called on by US coach and former doubles partner of Navratilova, Billie Jean King. Her call-up is due to injuries to the Williams sisters, and the fact that Jennifer Capriati and Lindsay Davenport have both fallen out with King. The US game will be against Belgium, so Navratilova may end up playing singles against one of the world's top two players, Kim Clijsters and the magnificent Justine Henin-Hardenne. Navratilova is also believed to be considering entering next year's Olympics, and applying for a wild card into the singles at Wimbledon, in addition to defending her mixed doubles crown.
And while this 47 year old legend continues apace, the much-maligned Anna Kournikova looks set to retire at the age of 22, which I think is the same age Martina Hingis2 retired at. They don't make female tennis players like they used to you know...
RUGBY REPORTS
This week, as the Rugby Union World Cup starts, and Rugby League's Super League approaches the Grand Final stage, in addition to Intern's Rugby League Reports, we will also be having Red Kite reporting on Rugby Union. Both of these marvellous pieces can be found elsewhere in the Post
SEVERAL A/K/A RANDOM's 'sporting blues'
Okay, the NFL continues apace, MLB's Championship Series continue and Germany win the Women's World Cup. All below, as Several takes you through the US sporting scene:
Oh my, it seems Columbus Day has slipped up on me, and it's also Thanksgiving Day in Canada about 60 miles (100 km) north of this-here confuser at Post time. Yes, that's right, this date has been arbitrarily selected to commemorate Christobal Columbo's lost voyage to Asia, and the Canadian version of Thanksgiving (as opposed to the American version, which occurs on the fourth Thursday in November.) Confused yet? You aren't alone.

If Columbus 'discovered' America, just exactly WHO were those natives he and his ilk slaughtered in their search for riches? WHY are two continents named after Amerigo Vespucci and not ol' Chris? And WHAT has this to do about sports, anyway?

That's why this box of circuits is called a 'confuser' and I'm sitting here staring at it, looking out the window toward my Canadian friends over the horizon, pondering.

I have just discovered that World Cup soccer awards a 'golden ball' and a 'silver ball' to the top players in their once-in-four-years tournament, which reminds me of Douglas Adams and h2g2, which is what we're all here for, ain't it? Not some hysterical and historical rambling by Yours Truly. You are here for FACTS, not meaningless observations packaged in neat bits and bytes and are ENTITLED to a coherent description of the American sporting scene this past week... but you ain't gonna find it here.

Go to ESPN.com or mlb.com or nfl.com for the 'expert' version, or try my favourite, the Los Angeles Times for what the 'professional' sportswriters have chronicled for the weekend's games.

Let's see... where was I when I last wrote one of these essays? Oh yes, the women's World Cup, baseball and Amfoot... y'know what all three have in common? All the games were decided by replays and referee's decisions and are open to endless debate. Germany's women's squad defeated Sweden on a free kick that wasn't a free kick in the extra minutes, baseball is awaiting decisions in the separate League Championship Series, and Amfoot is being decided by television replays at the halfway mark in the season.

Yes, the German women's squad defeated Sweden 2-1, and the 'silver ball' winner from Sweden is disputing the referee's decision, the Chicago Cubs and Florida Marlins are still battling in the National LCS (Cubbies lead best-of-seven series 3-2), and the Noo Yawk Yankers and arch-rival Boston Red Sox are embroiled in a 'these teams hate each other, and the cities hate each other, let's see some arrests for assault on the playing field' American LCS (the Yankers lead 2-1 so far.) Amfoot stretches on and on while officials look at television replays six or eight times a game so the networks can sell more advert time for beer, autos and internet service while the nation 'celebrates' some Italian dude who conned Queen Isabella into financing his search for riches and Canada gives thanks that Eric the Red was there first, long before ol' Chris thought he was in China in 1492.

Oho!! What's this? Hot beverages, warm snacks and goodies... ooh, is that a cooler for cold, refreshing beverages I see?? Ah, yes, come in, come in, let's see what you have there... ah, thank you, thank you. As they say in Amfoot, it's halftime before I decide (upon further review) what factoids to elucidate upon further.

~~~~~~~~~~~~~~~~~~~~~~~

Ah, much better, and looking through the week's notes, I've got a bunch of things, background info and such, but two things stick out - to follow up on last week's Amfoot note on the Kansas City kick returner Dante Hall (the Chiefs won in Green Bay in overtime to stay unbeaten, Hall had a 32-yard punt return but didn't score for the first time in five games.) Hall played the 2001 season for the Scottish Claymores in the NFL Europe League and had this to say about playing overseas:
'They are great, very great (fans.) I went out with a couple of fans who showed me how to play golf. They even slapped a little kilt on me and made me go commando. I ate some kind of food over there - the inside lining of a pig or something, they told me.'

Heathen that I am, going 'commando' I was not surprised to learn, means playing golf in a kilt without underwear, and haggis is the stomach lining of a sheep... kielbasa casings are from the pig's intestines, this I did know, having helped my mum stuff the buggers decades ago, a messy task in itself.

And this other: a 14-year-old named Freddy Abu is competing for a spot on the American under-20 soccer team after playing for the under-17 team in the recent World Championship. Abu's mum won a immigration lotto in Ghana and the family moved to the States six years ago, and Freddy will graduate high school next June, just before his 15th birthday. Why is this a sports note? Seems young Freddy is being courted by Inter Milan to the tune of a $750,000 contract, with Manchester United, Chelsea, Liverpool and PSV Eindhoven also interested in his further soccer talents. Seems his mum hit a bigger lotto than just immigration.

AND FINALLY, from the breaking news section of the Sports Desk: horse racing's legendary jockey Bill Shoemaker has passed away at age 72 late Sunday night. The Shoe is second (behind Lafit Pincay) in total number of winning mounts in his racing career and truly a legend in his own time, as a jockey and practical joker, not to mention a four-time Kentucky Derby winner. The horse racing and betting world mourns his passing.

So your Intrepid American Sports Scribe shall put an end to this Useless Drivel and move on in to Monday the 13th under a waning moon, beneath sunny skies at present, highlighting the changing (and falling) of the leaves... baseball's World Series will begin on the weekend and that is a story for another day. This is Several, a/k/a Random, just happy to slip in a mention of Douglas Adams in a purported Sports Column, still wondering why Lief Eriksson didn't stay. I think I could use a sauna. Or maybe a straightjacket. Hit send.
HAVE YOUR SAY
If you would like to report, opine or rant on matters sporting as I and Several do here, then just drop me a line at my personal space, or comment below. Also comment below if you would like any elaboration or further explanation of any of this week's stories (such as that European Championship analysis, for example). Anyway, farewell for now, and look out for my exciting new column, which I was planning to start this week, but which has been delayed 'til next week...
Egon

with Several a.k.a. Random