Sporting With Egon
Created | Updated Mar 19, 2004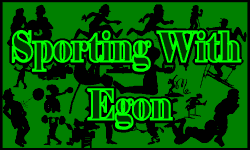 This week in Sporting With Egon - Cowdenbeath, Rio Ferdinand, European football, English cricket and a large dollop of Several.
COWDENBEATH 0-1 STRANRAER
You may be wondering why I've given you that result. To flesh out the details:
Football (Soccer to the Yanks)
Scottish Third Division: Cowdenbeath 0-1 Stranraer (Moore 8 mins ,penalty), played at Central Park, Cowdenbeath, attendance 232.
My reasons for sharing this news with you all is alcohol. Well, broadly speaking. You see, I had fellow h2g2 reporter Alfredo Marquez staying with me for the weekend - I went to school with the guy and he comes up to Sunderland from time to time. On Friday night Alfredo said that he had been thinking that maybe we could go to a Sunderland football match while we were up (it's the sort of thing we do sometimes - He's a Liverpool fan, I'm an Everton fan, the Stadium of Eternal Darkness (or 'Light' as Sunderland AFC insist on calling it) is neutral territory.
Anyway, it turned out that Sunderland were away, and we didn't really fancy a trip to Sheffield. 'We could go somewhere else' Alfredo suggests, and I assume he is referring to one of the myriad lower league clubs which abound in the NorthEast of England - Darlington, Hartlepool, Blyth Spartans, Washington, Durham et al. However, Alfredo then hits me with 'No, Cowdenbeath'.
Allow me to explain a little something about the place that Cowdenbeath Football Club holds in my heart: This team, from the middle of Fife in Scotland, were the subject of a newspaper report sometime in the mid-90s about the state of the team - they continually finished bottom of the Scottish Second Division, the lowest division in the league, but as there was no promotion/relegation between the Scottish League and the various non-League amateur organisations1, they remained in the Second Division until the third divison was created, and found themselves inaugral members of that. It should be pointed out at this point that the top division of Scottish football is the SPL, or Scottish Premier League, which currently contains 12 teams. The Scottish League itself is positioned below the SPL and split into three divisions, with promotion and relegation between the three. So the third division of the Scottish league is in fact the fourth division of Scottish football.
Anyway, so I read this report about this old mining town with average attendances of around 100, and who would sometimes go an entire season without an away win. The team is ironically nicknamed 'The Blue Brazil' after the most skilful football nation on Earth. Anyway, as a result of this article, I started following the Blue Brazil's progress - they lifted themselves off the bottom of the league under the guidance of Craig Levein2, and the solid base of players, blending youth with experience and players on loan from Hearts, paid dividends as the Blue Brazil were promoted to the second division at the end of the 2000/01 season. However, after just two seasons in the second division, and with average attendances up over the 300 mark, the side, under the guidance of manager Keith Wright and coach Joe Tortolano - who I had a football card of when he played for Hibernian - were relegated back down to the third division earlier this year. This season (2003/4) has got off to an iffy start - lost all four home games so far, while drawing two and winning two away.
Anyway, so Alfredo suggests to me that we might want to go to Cowdenbeath. I laugh. We then go to the student union bar (spot the mistake...), where I drink five bottles of Newcastle Brown Ale in two hours. Alfredo, also drinking, then suggests the Cowdenbeath trip again. I agree, and we go to an internet phonebox and check train times for Sunderland to Cowdenbeath.
So, Saturday morning, embark on three hour trip to Cowdenbeath3 where we head down the road from the station to Central Park, also known as the Cowdenbeath Racewall due to the oval racing track which encircles the pitch and hosts stock car racing and the like. The atendance was 232, the ground is very small having only one side of seats, the other three being terraces and, as I said, there is a racing track round the outside. The matchday magazine is called 'The Blue Brasilian' and the club make a big thing of the 'Blue Brazil' nickname. The home shirt, one of which I am now the proud owner of, has 'The Blue Brazil' written round the badge, on the back of the collar, and at the bottom of the back of the shirt, and the away kit is the same colours as the Brazilian national home kit: yellow shirts with green trim, blue shorts.
A presentation is made before the match - Cowden club captain Craig Winter is given a tankard which, the announcer says, he will have 'no trouble filling', to mark his 300th league appearance for the club. Striker Graeme Brown, the only member of the squad to be born outside Scotland4 is rewarded for his 200th appearance and 50th goal for the Blue Brazil. Both these presentations took place just inside the metal crash barrier separating the pitch from the racing track - they don't race during the match... or at least they *didn't* on Saturday.
Then, at 3.00, the match kicked off and for ninety minutes 22 semi-professionals (plus four substitutes) battled it out in a game of football which had some good passing movements and some decent attempts on goal but was far from a skilful affair. However, for someone more accustomed to the English Premiership, as I am, this was glorious. I've written before in this column about how much I enjoyed going to see Morecambe - well this was better than that for me. These guys are getting paid peanuts compared to the big stars of the Premier League, but their commitment is so much higher. There is no need for segregation at the match as the Cowdenbeath and Stranraer fans are both there for the football, not to start fights or the like. When players were fouled they got up and carried on - no theatrical hurling of oneself around the floor. The referee booked just two players in the entire match, a match decided by Stranraer top scorer Michael Moore's eighth minute penalty. There were no big arguments, no bitter recriminations, the only player who stayed down after being tackled was actually substituted, actually injured. Cowden manager Keith Wright had a debate wityh the referee after the penalty award, but was not sent off, as any manager who did something similar in the Premier League would be. So, no cheating, no half-arsed millionaires, no over-zealous refereeing. It was worth the six hour round trip just to be part of that crowd of 232. Just to see that, in Cowdenbeath, they still play football the way it should be played. They play it properly, honestly, and they show commitment. And they don't get ostentatious wealth as a reuslt. And the fans don't see the need to insult each other, just their own players. Marvellous stuff.
RIO FERDINAND
In English football, Manchester United and England centre-back Rio Ferdinand is in all kinds of trouble over his failure to attend a drugs test. He pleads as his defence that he was moving house and 'forgot', but submitted to a test 36 hours later. He has been omitted from the England squad for the vital match with Turkey in the European Championship qualifiers this weekend (of which more later) as he is under investigation by the FA. His defence that he forgot may be true but isn't, in my view, an acceptable defence. A failure to submit to a drugs test is viewed in most sports as equivalent to failing a drugs test, and I think Ferdinand should be dealt with accordingly. The maximum two year ban would be unnecesarily harsh, but he needs to be suspended, fined or have some other action taken against him. If the FA is serious about being hard on drugs it must take action against Ferdinand. If it does not, there is a precedent. Any footballer who actually is on drugs (I am not suggesting for a moment that Ferdinand is) then he could 'forget' and then use some masking agent to get rid of those drugs from their system. So, Ferdinand *must*, in my opinion, have some form of punishment against him.
Stop Press
The England football team will travel to Turkey for the final match of UEFA European Championship Qualifying without Rio Ferdinand, despite
rumours that they were planning to boycot the game if the FA didn't recall Ferdinand. Full story here.
Other unsavoury football news has been reported concerning sexual behaviour of footballers. However, police investigations are not complete, and idle gossip and speculation about such serious matters are not something I wish to partake in. If you do, buy a tabloid newspaper.
ENGLAND CRICKET TOUR
England are going on tour to Bangladesh and, having already had to replace Jimmy Anderson with Richard Johnson, Andrew Flintoff has pulled out, to be replaced by Kent fast bowler Martin Saggers. Oh, and also in cricket, the Duckworth/Lewis score adjustment tables have been updated, meaning my Guide Entry on the subject is now out of date. Ah, well.
EUROPEAN CHAMPIONSHIP FOOTBALL QUALIFICATION
Okay, the final round of matches to decide qualification are taking place on Saturday 11th October, and I will take this oppurtunity to highlight the qualification system.
Okay, there will be 16 teams in the finals next year in Portugal. Divided into 4 groups of four, the top 2 qualify from each group to take part in a knockout tournament. Portugal have already qualified as hosts, and the remaining 15 places are allocated in this qualification tournament - 10 groups of either five nations per group. The top team in each group join Portugal in the finals (taking the total to 11). The ten second-placed teams are drawn against each other randomly in five play-off games, and the five play-off winners take the five remaining places.
Okay, so I shall now give you a sumary of the state of these ten groups with one game left.
GROUP 1

France have qualified, Slovenia are guaranteed the play-off place. Israel, Cyprus and Malta miss out.
GROUP 2

This is very tight. Romania top the group with 14 points, but have played all their games. Second place Denmark only need a draw with third place Bosnia to get the automatic place. Bosnia can get the automatic place if they beat Denmark. If Bosnia do beat Denmark, then fourth place Norway could get the play-off place ahead of Romania. Romania need Norway not to win in order to get a play-off place and I'm pretty sure that, despite being group leaders, the Romanians can't get the top spot. And as Norway are only playing Luxembourg, I can't see them failing to win. So it looks like bye-bye Romania, with a big shakedown between Norway, Denmark and Bosnia. But I would say this is the most open group as of this point in qualification, Luxembourg being the only team who can't qualify.
GROUP 3

The Czech Republic are guaranteed the automatic qualification place from this group, while fallen greats Holland, who failed to qualify for the 2002 World Cup, must make do with a play-off place (sorry, shazz5). It's the end of the line for Austria, Moldova and Belarus though.
GROUP 4

Sweden will qualify as the top team, and second place is very open - if second placed Latvia can beat the Swedes, they finish second. If they don't, they have to hope Hungary and Poland draw. A victory for Hungary would cement second place if Latvia don't win, Poland would need victory and a Latvian defeat. Whipping boys San Marino sit out the final round.
GROUP 5

This one has Scotland in it and is also quite open, although not to the same degree as some other groups. Faroe Islands, whose only point came from a draw with Scotland, sit the week out. Germany only need a draw with Iceland to qualify. Iceland will qualify if they beat Germany. Germany, in the event of a defeat, will still be guaranteed a play-off place. Scotland will get a play-off place if they beat Lithuania and Iceland don't beat Germany.
GROUP 6

The top two will be Greece and Spain. If both get the same points from the final game, that will be the order. If not, whichever team gets more points win the group, the others are in the playoffs. I foresee Greece winning this group, as I can't see them slipping up against Northern Ireland, although if they do the odds of Spain going down to Armenia as well are astronomical. Third placed Ukraine don't play.
GROUP 7

Okay, Slovakia, Liechtenstein and the Former Yugoslav Republic of Macedonia leave with nothing. All will be won or lost in the controversial England v Turkey match in Istanbul. England will be without Rio Ferdinand (see above) and have an injury doubt over Michael Owen. If Turkey win, they finish top and England face the lottery of play-offs. If England get a win or draw, it's vice versa.
GROUP 8

Estonia and Andorra eliminated, Bulgaria qualify, Belgium must get a better result against Estonia than Croatia do against Bulgaria in order to pip the Croats to the play-off place.
GROUP 9

Wales look likely to take the play-off place with Italy qualifying. Wales would need a victory over Serbia-Montenegro with the Italians failing to beat Azerbaijan in order to qualify automatically. Welsh victory - likely. Italians slipping up against the Azerbaijanis - very unlikely. In addition to Serbia and Azerbaijan, Finland have also been eliminated.
GROUP 10

Albania and Georgia are out. The rest, it's a free-for all. Ireland (3rd place, 11 points) play Switzerland (top, 12 points) while Russia (2nd, 11 points) meet eliminated Georgia. Okay: If Russia and Ireland win, they finish 1st and 2nd respectively. If Switzerland and Russia win, they finish 1st and 2nd. If Ireland and Georgia win, Ireland are 1st, Switzerland 2nd. If Switzerland and Georgia win, Switzerland are 1st, Russia 2nd. If Ireland win and Russia draw, then Ireland come first, Russia second. Switzerland win, Russia draw means Swiss 1st, Russians 2nd. Russia win, Irish draw means Russia 1st, Switzerland 2nd. Georgia win, Irish draw means Swiss 1st, Irish 2nd and, finally, a pair of draws mean that Switzerland win the group with Russia second. See, easy!
RUGBY REPORTS
I hear that in addition to Intern's Rugby League Reports, we will also be having Red Kite reporting on Rugby Union. Both of these marvellous pieces can be found elsewhere in the Post6.
SEVERAL A/K/A RANDOM's 'sporting blues'
So, we reach that stage of the column where, after boring you all with European championship qualification issues, we have baseball play-offs, NFL football and Women's World Cup soccer from my American reporter, Several:
Oh my goodness, American sports fans, the baseball playoffs are going down to the wire, the Amfoot is starting to shake up into some interesting races, basketball is beginning its pre-season and the women's World Cup soccer tournament is getting media coverage from coast-to-coast... there are four channels programmed into my telly and VCR and Sunday was spent bleeping between all (and my notebook looks like something in Sanskrit.) I can start with the baseball, it's easiest...

The Chicago Cubs will host the Florida Marlins in the National League championship series (best of seven games) beginning this week. Games one and two are in Chicago, 3-4-5 in Florida and (if necessary) games 6 and 7 in Chicago, thereby allowing each city to share in the riches of championship-type crowds. Games will be played at the discretion of the teevee networks, who al$o hope to get the maximun return on inve$tment and $ell more adverti$ing $pace on their national broadca$t$.

The Cubs, an Original franchise dating back to the 1900's, have not qualified for a championship appearance in decades, while the upstart Marlins, begun a short decade ago, are competing for their second championship and hope for another World Series title after their 1997 triumph over the beloved Cleveland Indians.

Florida boasts some of the best young talent in The Game, while the Cubs feature a couple young starting pitchers (Mark Prior and Kerry Wood) and the outstanding home run slugger, Sammy Sosa in the friendly confines of Chicago's Wrigley Field (yes, named after Wrigley's gum) and the ivy-covered walls that have become a baseball landmark since the days of Babe Ruth.

In the American League, the Noo Yawk Yankers have once again advanced to the League Championship Series against the winner of Monday's Boston Red Sox-Oakland Athletics contest. The Yankers, perennial favourites since the days of the aformentioned Babe Ruth in 1918 are by far the most expensive franchise in American sports. What is interesting is that Boston is their primary rival - the Red Sox owner sold Babe Ruth to the Yankees in 1918 to begin the Yankee dynasty and seemingly doom the Boston club to second place, mis-quoth the raven, evermore.

Stop Press:

The Boston Red Sox have defeated the Oakland Athletics 4-3 to advance into the American League Championship (best of seven) series against their hated rivals, the Noo Yawk Yankers, which will begin Wednesday in venerable Yankee Stadium, home of oh so many postseason 'classic' baseball games. The series then moves to Boston's fabled Fenway Park for the weekend.

Oh my Lords and Ladies... these two clubs, and their cities, HATE each other.

The Cubs also have a similar curse, from 1908, when they refused admission to the owner of the nearby Billy Goat Tavern, who attempted to attend a game with the pub's mascot and was refused admission with the mascot, which was (of course) a goat, ripe of goat scent...

So we have Monday's Boston-at-Oakland winner at the Yankers Wednesday with the Marlins at the Cubs Tuesday night. Many sub-plots will be discussed. And re-discussed, perhaps debated. Many wagers will be made, and many cold adult beverages consumed. Only the bookmakers are the winners..

Meanwhile, sharing the national spotlight, is the women's World Cup tournament in the sport I know as soccer. I read a buncha newspapers from across the States, and nearly every one has a section on the women's competition... besides the national telly.

The United States lost to Germany 3-0 in the semifinals, while Sweden defeated Canada 2-1 in some brutal matches, extremely physical knock-em-downs where each corner kick resembled a miniature rugby scrum with the ladies fighting for position and the ball, before, during and after the actual play. There were no 'girly' plays about either contest, to be sure.

Germany fought through the Russian team before beating the Americans, and Canada slipped past China before falling to the Swedes, who edged Brazil to get into the semifinals last weekend. Coming up: the US and Canada for third place Saturday and Germany-Sweden for the World Cup championship Sunday evening, both games nationally televised here in the States. I wish I could make some remark about styles, because there certainly is some, but it sure ain't a 'flowing grace' as one would see in women's tennis, more like a linebacker on a blitz in Amfoot, which I shall attempt to describe after I have a or

In the weekly Amfoot with the semi-ovoid pointy ball, affectionately known as a 'pigskin' (have you ever tried to catch a pig?) we seem to have four teams still undefeated, pending a competition in the Monday Night Football prime-time, nationally televised game. In the National League North division, we have the Minnesota Vikings at 5-0 and the Carolina Panthers at 4-0 in the National East, while the Indianapolis Colts are leading the American South at 4-0 with Monday's game with Tampa Bay incomplete at Post time.

The fourth squad still unbeaten are the Chiefs of Kansas City at 5-0 in the closest and best divisional race, ahead of the Denver Broncos' 4-1 mark in the American West. Kansas City's game was the most remarkable of the weekend, featuring a kick return of 93 yards by 5-foot-10-inch Dante Hall, his fourth such return in consecutive games (and seventh in a 10-game stretch going back to last season) in KC's 24-23 victory over the archrival Oakland Raiders. Hall is a fifth-round draft choice who played in NFL Europe before laying waste to the American NFL over the last year.

Also on the American sporting landscape the past week was James Toney's defeat of Evander Holyfield in heavyweight boxing, and the media controversy over racial remarks uttered by radio talk-show host Rush Limbaugh, who was hired by ESPN to provide un-needed commentary (and spark rating$). Neither is worthy of any other discussion save to note that boxing is all pay-per-view on telly and right-wing political pundits have no place commenting on Amfoot. To me, they are the clowns in the sideshow, not really in the sporting realm.

And one other note I seem to have missed: two women, both naked, appeared on the field during the Canada-Sweden women's World Cup semifinal match to protest a certain athletic shoe manufacturer. Apparently the 'ladies' chose the 57th minute of the 2-1 contest to try and make a political statement. Colour them clowns, too.

So that's the sporting wrap-up from the North Coast of America, on the south shore of Lake Erie, where the sky is pink and blue and the lake is blue, green and grey in spots... Several, a/k/a Random, over and out.
HAVE YOUR SAY
If you would like to report, opine or rant on matters sporting as I and Several do here, then just drop me a line at my personal space, or comment below. Also comment below if you would like any elaboration or further explanation of any of this week's stories (such as that European Championship analysis, for example). Anyway, farewell for now, and look out for my exciting new column, coming soon to an h2g2 Post near you...
Egon

with Several a.k.a. Random 


1Highland League, East of Scotland League, etc.
2Now manager of Edinburgh's Heart of Midlothian.
3Scotland's a very lovely scenic country, you know.
4Johannesburg, South Africa.
5

6
The Rugby Union Reports will be starting next week... ed