original alji ps
Created | Updated Jul 25, 2006
Hello and welcome, !

 

Don't panic, eh?

Hard not to most of the time, the world being what it is, and also all those other things that we have no real idea about:
Life, the universe, not to mention EVERYTHING!
But being here is a pleasant and interesting way to share ideas and thoughts. And to not feel alone.
So, looking forward to reading and sharing lots of ideas with all sorts of people out there . . .
. . . and of course THEN I'm apparently supposed to say a few more personal things about myself (or so I've been told). ummm, okay.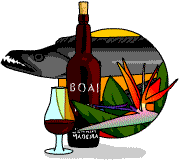 Was born in Canada

- have lived in

Winnipeg,

Toronto,

Bristol,

Salamanca

and

Seville
(in that order).
"I always felt like a foreigner from the beginning of life so when I actually became one, I felt more at home." - Tim Burton
I now have two cats (my beautiful Lua died 16/9/2004). I love reading, used to love cinema, now I try to still love it. I teach English and also design clothes. In April 2006 I started azahar natural clothing with my with my heart's desire, Noggin
Places to visit - feel free to join in by clicking on 'Conversation'
:
h2g2 friends photo gallery and Conversation
Photo Gallery Alphabetical Index
Gallery 42 - h2g2 friends art gallery and Conversation
h2g2 Researchers' Map
And some other places I like . . .
My conversations
Ask h2g2
The Forum
SEx
My Weblog