The h2g2 Poem
Created | Updated Sep 17, 2003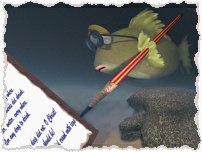 Non-communication - A Beginners Guide

When asked 'Is anything the matter?'

The immediate answer should be 'No'.

When asked 'What are you doing?'

Reply 'Thinking' and continue to gaze vacuously.

If she persistes and says 'What about?'

The response 'Nothing much' should suffice.

Accuse your partner of not making her own interests

Then press the appropriate guilt buttons when she does -

You know, she's never in, the house is a mess,

The kids are missing her, that sort of thing.

Complain she never talks to you anymore

-and use the TV volume control to ensure she doesn't.

Above all, do not admit to pain, confusion or self-doubt,

It is not in your interest to appear human.

Never admit to feeling lost. All women are the same.

They don't need you, really, just a firm hand.