Sporting With Egon
Created | Updated Aug 13, 2003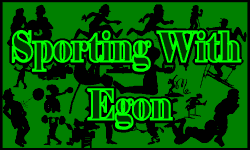 Egon is away this week, so he has entrusted his column to several a/k/a Random.
Whilst Egon is having dramatric confuser blues, Shazz is allowing me to be a small part of 'Sporting with Egon' in the interim. I miss his contributions to the Post. Onward to American sporting news, where both the baseball and football Hall of Fames had their inductions, the baseball continued their seasons and the football began training camps and exhibition games.
'I'm just trying to make this team, do everything coach tells me to do. If he tells me to go block a defensive end, I'll go in to block him. I might get put on my butt, but I've got to go in there and show I've got heart.'


Cleveland Browns rookie wide receiver CJ Jones on laying his relatively small body on 6-foot-8, 325-pound opponents.

On baseball: nothing has really changed in the pennant races. The Chicago White Sox made some additions thru trades and are challenging in the American League Central, the Boston Red Sox and Noo Yawk Yankers also bought some ball players in their struggle for the American East division. The Baseball Hall of Fame in Cooperstown, New York State had its' inductions last week; the Pro Football Hall of Fame honored four players and a former coach at their shrine in Canton, Ohio this week. Many notable quotes and details at www.mlb.com and www.nfl.com for those wishing more detailed information.

Should anyone be interested, I am milo74 on the Cleveland Indians' Fan Forum, the GOOFBALL in the Baseballs & Goofballs # whatever and shall be doing game reports this Friday and Saturday's doubleheader.

Whoops, I mis-hit something and nearly got kicked off my own confuser, so I can definitely relate to Egon's compu-troubles. As a good friend of mine once e-said, 'The Internet is a wonderful thing... sometimes.'

So to finish up the American portion of 'Sporting with Egon' this week, I have a little comment on the Texas Rangers baseball team, which used to be the Washington (DC) Senators, volume two1. The Rangers honoured former manager Johnny Oates last weekend and Oates made personal appearances despite the chemotherapy for a terminal and inoperable brain tumor. I am glad he got to know and understand the love and respect of baseball fans for his contributions to The Game.

And finally, this last quote from football HoF inductee Joe DeLamiellure, a lineman on several championship and record-breaking teams in Buffalo and Cleveland, and a native of Detroit, thus covering the Great Lake named Erie from east to west:

'Teamwork came from this - one bathroom, no locks, ten kids. We learned to share early on.'


Yeah, I'll bet, Joe D.!!! Tag-team bathroom, and you learn early in life that everybody's poop stinks.

So this is several a/k/a random, watching the wabbits in my back yard chasing the boids, and if I don't finish the chef's salad in my refrigidator today, toozday morning's entertainment will feature the choiping boids vs. the wascally wabbits in the back yard, fighting over leftover salad and bread crumbs. From the shores of the great lake named Erie, I'm definitely over and out.

Several a.k.a. Random 

1The original Senators play in Minneapolis, Minn.