H2G2 Researchers' Top 10 Books
Created | Updated Jul 17, 2008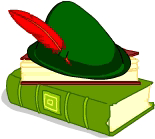 Inspired the BBC's 'The Big Read' weekend, and also Emily's Top 10 CDs page (which is where I stole the technical know-how to be able to make this page!), this guide entry is for the researchers of h2g2 to tell the rest of us their Favourite 10 books they have ever read.
The idea being that members of the h2g2 community leave messages giving me their lists, which I will (eventually) add to this page.
Like with Emily's Top 10 CDs page, nothing's set in stone, and you can change your selection if you wish. But make them your ten favourite books, the ones you loved best, rather than the ones that you think sound most impressive!
Oh, and it doesn't matter what order you put them in!

Cheers,

Number Six



Make a Contribution

1. Book Name, by Author

2. Book Name, by Author

3. Book Name, by Author

4. Book Name, by Author

5. Book Name, by Author

6. Book Name, by Author

7. Book Name, by Author

8. Book Name, by Author

9. Book Name, by Author

10. Book Name, by Author

H2G2 Top 10 Authors (so far)
Ranking
Author
Votes
1.
Douglas Adams
35.5
2.
JRR Tolkien
33
3.
Terry Pratchett
27.5
4.
Robert A Heinlein
10
5.
Charles Dickens
9
6.
Umberto Eco
8
Joseph Heller
8
George Orwell
8
9.
Isaac Asimov
7.5
10.
Ursula le Guin
7
The voting so far gives the not-altogether-surprising result that h2g2 researchers have a penchant for Sci-Fi and Fantasy, and they like Douglas Adams best of all - this researcher was very pleased to see a certain terminally over-rated purveyor of swords, sorcery and hobbitry knocked off the top spot. Charles Dickens is the most popular classical author by a long way - much more heavily supported than Shakespeare or Oscar Wilde, for example. Authors bubbling just under the Top 10 include Nick Hornby, JD Salinger, John Irving, Jane Austen, Jack Kerouac, Iain M Banks, Bill Bryson, Hunter S Thompson and PG Wodehouse. They'd make an interesting dinner party, wouldn't they? An honourable mention must go to Willard Price, who's been suspended following a stewards inquiry - he would be up there in joint sixth place if all eight of his votes hadn't been placed by the same researcher...
Here's the Complete List of Lists...
1. Absolute Beginners, by Colin MacInnes

2. The World According to Garp, by John Irving

3. On the Road, by Jack Kerouac

4. Stretch 29, by Damian Lanigan

5. The Blue Flowers, by Raymond Queneau

6. A White Merc with Fins, by James Hawes

7. The Catcher in the Rye, by JD Salinger

8. Generation X, by Douglas Coupland

9. Billy Liar, by Keith Waterhouse

10. High Fidelity, by Nick Hornby

1. Pride and Prejudice, by Jane Austen

2. High Fidelity, by Nick Hornby

3. Bridget Jones's Diary, by Helen Fielding

4. A Midsummer Night's Dream, by William Shakespeare

5. About a Boy, by Nick Hornby

6. The Girls Guide to Hunting and Fishing, by Melissa Banks

7. Hitchhiker's Guide to the Galaxy, by Douglas Adams

8. Lord of the Flies by William Golding

9. To Kill a Mocking Bird by Harper Lee

10. (to be added)

1. Franny and Zooey, by JD Salinger

2. Le Petit Prince, by Antoine St-Exupery

3. The Alchemist, by Paulo Coelho

4. The Last Unicorn, by Peter S Beagle

5. A Fine and Private Place, by Peter S Beagle

6. Name of the Rose, by Umberto Eco

7. Raise High the Roofbeam Carpenters and Seymour: An Introduction, by JD Salinger

8. Mists of Avalon, by Marion Zimmer Bradley

9. The Four Loves, by CS Lewis

10. Walking on Water by Madeline L'Engle

psychocandy: ACE, keeper of dangling participles
Also not in order...


1. The Mists of Avalon, by Marion Zimmer Bradley

2. A Tale of Two Cities, by Charles Dickens

3. Watership Down, by Richard Adams

4. Fear and Loathing in Las Vegas, by Hunter S Thompson

5. Les Miserables, by Victor Hugo

6. Childhood's End, by Arthur C Clarke

7. The Lord of the Rings Trilogy, by JRR Tolkien (not trying to be unoriginal, has always been and will always be in my top ten)

8. Breakfast of Champions, by Kurt Vonnegut Jr

9. The Once And Future King, by TH White

10. The Pillars of the Earth, by Ken Follett

1. The Lord of the Rings, by JRR Tolkien

2. A Wizard of Earthsea, by Ursula Le Guin

3. The Tombs of Atuan, by Ursula Le Guin

4. Archer's Goon, by Diana Wynne Jones

5. The Hobbit, by JRR Tolkien

6. Titus Groan, by Mervyn Peake

7. Watership Down, by Richard Adams

8. Wyrd Sisters, by Terry Pratchett

9. Good Omens, by Terry Pratchett and Neil Gaiman

10. The Name of the Rose, by Umberto Eco

1. Riddley Walker, by Russell Hoban

2. Good Omens, by Neil Gaiman and Terry Pratchett

3. The Woman in White, by Wilkie Collins

4. New Grub Street, by George Gissing

5. Babel 17, by Samuel Delaney

6. Northern Lights, by Philip Pullman

7. The Name of the Rose, by Umberto Eco

8. Tom Jones, by Henry Fielding

9. The Oath, by Frank Peretti

10. A Fine and Private Place, by Peter S Beagle

1. Vanity Fair, by William Makepeace Thackeray

2. Wuthering Heights, by Emily Bronte

3. Bleak House, by Charles Dickens

4. The Hunchback of Notre Dame, by Victor Hugo

5. Les Miserables, by Victor Hugo

6. War and Peace, by Leo Tolstoy

7. David Copperfield, by Charles Dickens

8. To Kill a Mockingbird, by Harper Lee

9. Prudence and the Pill, by Hugo Mills

10. Goodbye Mr Chips, by James Hilton

1. Ash : A Secret History, by Mary Gentle

2. Lord of Light, by Roger Zelazny

3. Lord of the Rings, by JRR Tolkien

4. A Scanner Darkly, by Philip K Dick

5. The Dispossesed, by Ursula Le Guin

6. Daggerspell, by Katherine Kerr

7. Excession, by Iain M Banks

8. The Amber Chronicals, by Roger Zelazny

9. Mythago Wood, by Robert Holdstock

10. Little, Big, by John Crowley

1. Pride and Prejudice, by Jane Austen

2. The Nine Tailors, by Dorothy Sayers

3. Miss Marjoribanks, by Mrs Oliphant

4. Howl's Moving Castle, by Diana Wynne Jones

5. Antigua, Penny Puce, by Robert Graves

6. Ghost Stories of an Antiquary, by MR James

7. Possession, by AS Byatt

8. The Name of the Rose, by Umberto Eco

9. Mike and Psmith, by PG Wodehouse

10. Bleak House, by Charles Dickens

1. Night Watch, by Terry Pratchett

2. Small Gods, by Terry Pratchett

3. The Truth, by Terry Pratchett

4. The Last Continent, by Terry Pratchett

5. Prelude to Dune, by Brian Herbert and Kevin J Anderson

6. Dune, by Frank Herbert

7. God Emperor of Dune, by Frank Herbert

8. Mostly Harmless, by Douglas Adams

9. Wings, by Terry Pratchett

10.Foundation, by Issac Asimov

1. The House of Sleep, by Jonathan Coe

2. Sudden Wealth, by Robert Llewellyn

3. Last Chance To see, by Douglas Adams and Mark Carwardine

4. American Gods, by Neil Gaiman

5. Stupid White Men, by Michael Moore

6. White Teeth, by Zadie Smith

7. Stark, by Ben Elton

8. So Long and Thanks for all the Fish, by Douglas Adams

9. The Prince, by Niccolo Machiavelli

10. Fear and Loathing on the Campaign Trail '72, by Hunter S Thompson

1. The Lord of the Rings, by JRR Tolkien

2. Red Dragon, by Thomas Harris

3. The Mote in God's Eye, by Larry Niven and Jerry Pournelle

4. The Fountains of Paradise, by Arthur C Clarke

5. A Deepness in the Sky, by Vernor Vinge

6. The King of Elfland's Daughter, by Lord Dunsany

7. The Silmarillion, by JRR Tolkien

8. Use of Weapons, by Iain M Banks

9. Bridge of Birds, by Barry Hughart

10. Earthly Powers, by Anthony Burgess

1. The Mezzanine, by Nicholson Baker

2. Free Fall, by William Golding

3. Dirk Gently's Holistic Detective Agency, by Douglas Adams

4. Happiness, by Will Ferguson

5. Talking it Over, by Julian Barnes

6. The Autograph Man, by Zadie Smith

7. Chocolat, by Joanne Harris

8. Captain Corelli's Mandolin, by Louis de Bernieres

9. Fever Pitch, by Nick Hornby

10. My Diaries, by Lucky Star

1. Lord of the Rings, by JRR Tolkien

2. Magician, by Raymond E Feist

3. I, Robot, by Isaac Asimov

4. The Hitch-hikers Guide to the Galaxy, by Douglas Adams

5. The Moon is a Harsh Mistress, by Robert A Heinlein

6. Lord Foul's Bane, by Stephen Donaldson

7. Dune, by Frank Herbert

8. Swords of Lankhmar, by Fritz Leiber

9. Small Gods, by Terry Pratchett

10. Flower for Algernon, Daniel Keyes

1. Foucault's Pendulum, by Umberto Eco

2. Steppenwolf, by Herman Hesse

3. Good Omens, by Terry Pratchett and Neil Gaiman

4. Vipére au Poing (Viper in my Fist), by Hervé Bazin

5. Hawksmoor, by Peter Ackroyd

6. Catch 22, by Joseph Heller

7. If This is a Man, by Primo Levi

8. Notes from a Small Island, by Bill Bryson

9. Lempriére's Dictionary, by Lawrence Norfolk

10. La Peste (The Plague), by Albert Camus

1. The Robots of Dawn, by Isaac Asimov

2. The Zero Hour, by Joseph Finder

3. The Hitch-hikers Guide to the Galaxy, by Douglas Adams

4. The Road to Mars, by Eric Idle

5. Ishmael, by Daniel Quinn

6. Flowers for Algernon, by Daniel Keyes

7. I am David, by Anne Holm

8. Paddle to the Amazon, by Don Starkel

9. Extraordinary Powers, by Joseph Finder

10. Snow Crash, by Neal Stephenson

1. The Trilogy of 4, by Douglas Adams

2. The Last Continent, by Terry Pratchett

3. Magician, by Raymond E Feist

4. Lord of the Rings, by JRR Tolkien

5. Mostly Human, by Tom Holt

6. The Earthsea Quartet, by Ursula la Guin

7. The Sprouts of Wrath, by Robert Rankin

8. The Ship who Sang, by Anne McCaffrey

9. A Darkness at Sethanon, by Raymond E Feist

10. Guards! Guards!, by Terry Pratchett

1. To Kill a Mockingbird, by Harper Lee

2. The Stand, by Stephen King

3. It, by Stephen King

4. The Lord of the Rings, by JRR Tolkien

5. A Prayer for Owen Meaney, by John Irving

6. The World According to Garp, by John Irving

7. The Cider House Rules, by John Irving

8. Catch 22, by Joseph Heller

9. The House at Pooh Corner, by AA Milne

10. The Magicians Nephew, by CS Lewis

1. Thy Servant a Dog, by Rudyard Kipling

2. Of Mice and Men, by John Steinbeck

3. Shibumi, by ? Trevanian

4. The Hobbit, by JRR Tolkien

5. The Mists of Avalon, by Marion Zimmer Bradley

6. Gone with the Wind, by Margaret Mitchell

7. The Magic Faraway Tree, by Enid Blyton

8. Pride and Prejudice, by Jane Austen

9. Breakfast in the Ruins, by Michael Moorcock

10. Mr God This is Anna, by ? Fynn

1. Ivanhoe, by Walter Scott

2. Lord of the Rings, by JRR Tolkein

3. Dirk Gently's Holistic Detective Agency, by Douglas Adams

4. Vanity Fair, by William Makepeace Thackeray

5. Fathers and Sons, by Turgenev

6. The Subtle Knife, by Philip Pullman

7. The Edge, by Dick Francis

8. Oliver Twist, by Charles Dickens

9. Silas Marner, by George Elliott

10. The Mists of Avalon, by Marion Zimmer Bradley

1. Ender's Game, by Orson Scott Card

2. Lord of the Rings, by JRR Tolkien

3. Neuromancer, by William Gibson

4. All Tomorrows Parties, by William Gibson

5. Hitchhikers Guide to the Galaxy, by Douglas Adams

6. Spectre of the Past, by Timothy Zahn

7. Silmarillion, by JRR Tolkien

8. A Wizard of Earthsea, by Ursula Le Guin

9. Cats Cradle, by Kurt Vonnegut

10. Legacy, by RA Salvatore

1. The Getaway, by Jim Thompson

2. A Clockwork Orange, by Anthony Burgess

3. The Maltese Falcon, by Dashiell Hammett

4. The Hound of the Baskervilles, by Arthur Conan Doyle

5. Bonjour Tristesse, by Francoise Sagan

6. Other Paths to Glory, by Anthony Price

7. The Picture of Dorian Gray, by Oscar Wilde

8. Breakfast at Tiffany's, by Truman Capote

9. Animal Farm, by George Orwell

10. The Old Curiosity Shop, by Charles Dickens

1. Charlie and the Chocolate Factory, by Roald Dahl

2. A Walk to Remember, by Nicholas Sparks

3. James, by W Dane Bank (very old book)

4. Feet of Clay, by Terry Pratchett

5. 1984, by George Orwell

6. Hemingway's Chair, by Michael Palin

7. About a Boy, by Nick Hornby

8. Dead Famous, by Ben Elton

9. Five go Down to the Sea etc, Enid Blyton (I loved these books as a kid...)

10. The Hitchikers Guide to the Galaxy "trilogy", by Douglas Adams

1. Legend, by David Gemmell

2. Men at Arms, by Terry Pratchett

3. Live Ship Traders, by Robin Hobb

4. A Game of Thrones, by George RR Martin

5. Magician, by Raymond E Feist

6. The Eye of The World, by Robert Jordan

7. Colonel Butler's Wolf, by Anthony Price

8. Flashman, by George McDonald Fraser

9. Potter's Field, by Patricia Cornwell

10. Sharpe's Waterloo, by Bernard Cornwell

1. The Day of the Triffids, by John Wyndham

2. My Century, by Günther Grass

3. Foucault's Pendulum, by Umberto Eco

4. The Woman in Black, by Susan Hill

5. Silence, by Shusaku Endo

6. The Lord of the Rings, by JRR Tolkien

7. Stranger in a Strange Land, by Robert Heinlein

8. House of Leaves, by Mark Z Danielewski

9. The Name of the Rose, by Umberto Eco

10. Slaughterhouse 5, by Kurt Vonnegut

1. 13th Legion, by Gav Thorpe

2. The Hobbit, by JRR Tolkien

3. Eric, by Terry Pratchett

4. Sharpe's Waterloo, by Bernard Cornwell

5. Sharpe's Rifles, by Bernard Cornwell

6. Kill Team, by Gav Thorpe

7. Legend, by David Gemmell

8. The Hitchiker's Guide Trilogy, by Doulgas Adams

9. Gridlock, by Ben Elton

10. The Legend of Deathwalker, by David Gemmell

1. Lord of the Rings, by JRR Tolkien

2. Stranger in a Strange Land, by Robert A Heinlein

3. Guards! Guards!, by Terry Pratchett

4. The Last Hero, by Terry Pratchett

5. Busman's Honeymoon, by DL Sayers

6. The Warlock in spite of Himself, by C Stasheff

7. So Long and Thanks for all the Fish, by Douglas Adams

8. The Hobbit, by JRR Tolkien

9. The Ship Who Sang, by Anne McCaffrey

10. Feet of Clay, by Terry Pratchett

1. Atlas Shrugged, by Ayn Rand

2. The Fountainhead, by Ayn Rand

3. Anthem, by Ayn Rand

4. The Lord Of The Rings, by JRR Tolkien

5. Harry Potter (all of them), by JK Rowling

6. The Winds Of War, by Herman Wouk

7. War And Remembrance, by Herman Wouk

8. Exodus, by Leon Uris

9. The Hope, by Herman Wouk

10. The Godfather, by Mario Puzo

1. Catch 22, by Joseph Heller

2. Bleak House, by Charles Dickens

3. What Ho, Jeeves, by PG Wodehouse

4. The Lord of the Rings, by JRR Tolkein

5. American Tabloid, by James Ellroy

6. The Hitchhiker's Guide to the Galaxy, by Douglas Adams

7. The Compleet Molesworth, by Willans and Searle

8. A Clockwork Orange, by Anthony Burgess

9. The Famished Road, by Ben Okri

10. Lolita, by Victor Nabokov

1. Lord of the Rings, by JRR Tolkien

2. Archers Goon, by Diana Wynne Jones

3. The Year it Rained, by Crescent Dragon-wagon

4. Black Beauty, by Anna Sewell

5. The Hitch Hikers Guide to the Universe Trilogy, by Douglas Adams

6. My Family and Other Animals, by Gerald Durrell

7. Soul Music, by Terry Pratchett

8. Assassins Apprentice, by Robin Hobb

9. The Hobbit, by JRR Tolkien

10. The Course of Honour, by Lindsay Davis

1. Skinny Legs and All, by Tim Robbins

2. The Mars Trilogy, by Kim Stanley Robbinson

3. He Died With A Felafel in His Hand, by John Birmingham

4. Children Of the Alley, by Naguib Mahfouz

5. Catcher in the Rye, by JD Salinger

6. First Light, by Richard Preston

7. The Earth's Children Series, by Jean M Auel

8. The Forest People, by Colin Turnball

9. Hitchhikers Guide 1-5, by Douglas Adams

10. The Harry Potter Books, by JK Rowling

1. Foundation, by Isaac Asimov

2. The Name of the Rose, by Umberto Eco

3. Edmond Halley, by Alan Cook

4. Halliwells Film Guide, by various

5. Chaos, by James Gleik

6. Tinker Tailor..., by John Le Carre

7. Longitude, by Dava Sobel

8. The New Oxford Book of English Verse, by Helen Gardner

9. The Dream Ticket, by Henry Normal

10. Bleak House, by Charles Dickens

1. Neverwhere, by Neil Gaiman

2. Scene & Structure, by Jack Bickham

3. Telling Lies for Fun & Profit, by Lawrence Block

4. Moon on the Water, by Mort Castle

5. The Wrath of Ashar, by Angus Wells

6. The Wild Cards anthology, edited by George RR Martin

7. The Amber Chronicles, by Roger Zelazny

8. Replay, by Ken Grimwood

9. Armadale, by Wilkie Collins

10. Hitchhiker's Guide to the Galaxy, by Douglas Adams

1. Lord of the Rings, by JRR Tolkein

2.Nightwatch, by Terry Pratchett

3.Good Omens, by Terry Pratchett and Neil Gaiman

4.Drinking Sapphire Wine, by Tanith Lee

5.Players at the Games of People, by John Brunner

6.Earthsea Quartet, by Ursula K LeGuin

7.Small Gods, by Terry Pratchett (again, sorry, but I really rate this author)

8.Selves, by Lawrence Lerner

9.In the Glassroom, by Roger McGough

10. When we are 60, by Christopher Matthews

1. Jonathan Livingston Seagull, by Richard Bach

2. Hitchhiker's Trilogy (all 5), by Douglas Adams

3. Feet Of Clay, by Terry Pratchett

4. Night Watch, by Terry Pratchett

5. Red Dwarf, by Grant Naylor

6. Backwards, by Rob Grant

7. Once..., by James Herbert

8. Dirk Gently Omnibus, by Douglas Adams

9. Guards! Guards!, by Terry Pratchett

10. Salmon Of Doubt (and joined Writings), by Douglas Adams

1. franny & zooey, by j d salinger

2. so long and thanks for all the fish, by douglas adams

3. men at arms, by terry pratchett

4. hi fidelity, by nick hornby

5. haroun and the sea of stories, by salman rushdie

6. my family and other animals, by gerald durrell

7. God, the ultimate autobiography, by jeremy pascall

8. stormy weather, by carl hiaasen

9. peanuts, by charles m. schulz

10. calvin & hobbes, by bill watterson

1. LOTR, by JRR Tolkien

2. 1984, by George Orwell

3. The Guide, by Douglas Adams

4. Red Dwarf, by Grant Naylor

5. Silmarillion, by JRR Tolkien

6. The Phantom Tollbooth, by Norman Juster

7. Homage to Catalonia, by George Orwell

8. Good Omens, by Terry Pratchett

9. Down Under, by Bill Bryson

10. The Count of Monte Cristo, by Alexandre Dumas

1. Catch-22, by Joseph Heller

2. A Confederacy of Dunces, by John Kennedy Toole

3. Complicity, by Iain Banks

4. The Man in the High Castle, by Philip K Dick

5. Fear and Loathing in Las Vegas, by Hunter S Thompson

6. Cosmic Banditos, by AC Weisbecker

7. His Dark Materials (trilogy), by Philip Pullman

8. 1984, by George Orwell

9. American Tabloid, by James Ellroy

10. Regeneration (trilogy), by Pat Barker

1. The Lord of the Rings, by JRR Tolkien

2. Stranger in a Strange Land, by Robert A Heinlein

3. Contact, by Carl Sagan

4. Magician, by Raymond E Feist

5. The Hitchhiker's Guide to the Galaxy, by Douglas Adams

6. Carry on, Jeeves, by PG Wodehouse

7. The Moon is a Harsh Mistress, by Robert A Heinlein

8. Three Men in a Boat, by Jerome K Jerome

9. 1984, by George Orwell

10. The Positronic Man, by Isaac Asimov and Robert Silverberg

1. Any book, by Douglas Noel Adams

2. Siddhartha, by Hermann Hesse

3. Any Sci-Fi book, by Isaac Asimov

4. Any Black Widowers mystery, by Isaac Asimov

5. Fearful Symmetry, by Anthony Zee

6. An Old Man's Toy, by Anthony Zee

7. Pandora's Planet, by Christopher Anvil

8. All "Hoka" books, by Poul Anderson & Gordon R Dickson

9. All Med Ship Man stories, by Murray Leinster

10. A brief History of Time, by Stephen W Hawking

1.Geralds Game, by Stephen King

2.Return to Mars, by Ben Bove

3.Watchers, by Dean Koontz

4.Tatham Mound, by Piers Anthony

5.Stranger in a Strange Land, by Robert A Heinlein

6.Dark Rivers Of the Heart, by Dean Koontz

7. Moon War, by Ben Bova

8.Microcosmic God, by Thoedore Sturgeon

9. H2g2, by Douglas Adams

10. The Long Dark Teatime of the Soul, by Douglas Adams

1. Starship Troopers, by Robert A Heinlein

2. 2001, by Arthur C Clarke

3. The Hitchhiker's Guide to the Galaxy, by Douglas Adams

4. The Restaurant at the End of the Universe, by Douglas Adams

5. Life, the Universe and Everything, by Douglas Adams

6. So Long, and Thanks for All the Fish, by Douglas Adams

7. Mostly Harmless, by Douglas Adams

8. The Puppet Masters, by Robert A Heinlein

9. The Martian Chronicles, by Ray Bradbury

10. Timeline, by Michael Crichton

1. Catch-22, by Joseph Heller

2. The Discworld Novels, by Terry Pratchett

3. Night's Dawn, by Peter F Hamilton

4. The Miles Vorkosigan Novels, by Lois McMaster Bujold

5. The Mismeasure of Man, by Stephen Jay Gould

6. Flatland, by Edwin A Abbott

7. Foundation, by Isaac Asimov

8. Star Smashers of the Galaxy Rangers, by Harry Harrison

9. Battleship Bismarck, by Burkard von Mullenheim-Rechberg

10. The Honor Harrington Novels, by David Weber

1. South Sea Adventure, by Willard Price

2. Underwater Adventure, by Willard Price

3. Volcano Adventure, by Willard Price

4. African Adventure, by Willard Price

5. Amazon Adventure, by Willard Price

6. Diving Adventure, by Willard Price

7. Arctic Adventure, by Willard Price

8. Safari Adventure, by Willard Price

9. The Beach, by Alex Garland

10. A Time to Die, by Wilbur Smith

1. The Phantom of the Opera,by Gaston Leroux

2. 20,000 Leagues Under the Sea, by Jules Verne

3. Journey to the Centre of the Earth, by Jules Verne

4. 1984,by George Orwell

5. Animal Farm,by George Orwell

6. Moby Dick,by Herman Melville

7. The Adventures of Tom Sawyer,by Mark Twain

8. Gulliver's Travels,by Jonathan Swift

9. The Hobbit,by JRR Tolkien

10.The Time Machine,by HG Wells

1. Snow Crash, by Neal Stephenson

2. Complete Sherlock Holmes, by Sir Arthur Conan Doyle

3. Lord of the Flies, by Sir William Golding

4. The Melancholy Death of Oyster Boy, by Tim Burton

5. Hitchhikers Guide to the Galaxy Trilogy, by Douglas Adams

6. Neverwhere, by Neil Gaiman

7. To be added

8. To be added

9. To be added

10. To be added

1. The Hitchhiker's Guide to the Galaxy, by Douglas Adams

2. So Long and Thanks for all the Fish, by Douglas Adams

3. Dirk Gently's Holistic Detective Agency, by Douglas Adams

4. Catch 22, by Joseph Heller

5. The Lord Of The Rings, by JRR Tolkien

6. Stranger in a Strange Land, by Robert Heinlein

7. The Eye of The World, by Robert Jordan

8. On The Road, Jack Kerouac

9. The Mote in God's Eye, by Larry Niven and Jerry Pournelle

10. Fear and Loathing in Las Vegas, by Hunter S Thompson

1. The Outsider - Albert Camus

2. The World According to Garp - John Irving

3. Catch-22 - Joseph Heller

4. Slaughterhouse-5 - Kurt Vonnegut

5. And the Ass Saw the Angel - Nick Cave

6. On The Road - Jack Kerouac

7. Perfume - Patrick Suskind

8. The Picture of Dorian Gray - Oscar Wilde

9. A Clockwork Orange - Anthony Burgess

10. Pride & Prejudice - Jane Austen

1. Lord of the Rings, by JRR Tolkien

2. The Echanter's End Game, by David Eddings

3. The Hitchhiker's Guide To the Galaxy, by Douglas Adams

4. Den Cubanske Kabale, by Bjarne Reuter

5. The Hobbit, by JRR Tolkien

6. Lord of the Clans, by Christie Golden

7. Finding Forrester, by James W Ellison

8. Prins Faisals Ring, by Bjarne Reuter

9. Timeline, by Michael Crichton

10. Harry Potter and the Goblet of Fire, by JK Rowling

1. Lord of the Rings, by JRR Tolkein

2. The Wasp Factory, by Iain Banks

3. Dune, by Frank Herbert

4. Thief of time, by Terry Pratchett

5. War of the worlds, by HG Wells

6. Belgariad series, by David and Leigh Eddings

7. Sex, Drugs and Sausage rolls, by Robert Rankin

8. Earthsea Trilogy, by Ursula Le Guin

9. Songs of distant Earth, by Arthur C Clarke

10. Ivanhoe, by Sir Walter Scott

1. Perfume, Patrick Suskind

2. Where the Wild Things Are, Boris 'thingy'

3. The Birds, Daphne Du Maurier

4. The Crystal Singer, Anne McCaffrey

5. A Walk in the Woods, Bill Bryson

6. Good Omens, Terry Pratchett & Neil Gaiman

7. Princess Bride, William Goldman

8. The Day of the Triffids, John Wyndham

9. Whisky Galore, Compton McKenzie

10. Like Water for Chocolate, Laura Esquival

1. Cannery Row, by John Steinbeck

2. 1066 and All That, by Sellars and Yeatman

3. The Gormenghast trilogy, by Mervyn Peake

4. The Grapes of Wrath, by John Steinbeck

5. On the Road, by Jack Kerouac

6. Stranger in a Strange Land, by Robert Heinlein

7. The Compleat Molesworth, by Willans and Searle

8. Saturday Night and Sunday Morning, by Alan Sillitoe

9. Catch 22, by Joseph Heller

10. Kes, by Barry Hines

1. My bible

2. The Hobbit, by JRR Tolkien

3. Lord of the Rings, by JRR Tolkien

4. The Song of Albion, by Stephen Lawhead

5. Woman of Substance

6. Message from Nam, by Danielle Steel

7. Dream Thief, by Stephen Lawhead

8. Pendragon Cycle x 3, by Stephen Lawhead

9. Piercing the Darkness, by Frank Peretti

10. The Narnia Chronicles, by CS Lewis

1. Grapes of Wrath, by John Steinbeck

2. Anna Karenina, by Leo Tolstoy

3. Tess of the D'Urbevilles, by Thomas Hardy

4. Love in a Time of Cholera, by Gabriel Garcia Marquez

5. America, by John Dos Passos

6. The Unbearable Lightness of Being, by Milan Kundera

7. Earthly Powers, by Anthony Burgess

8. Madame Bovary, by Gustave Flaubert

9. The Big Sleep, by Raymond Chandler

10. Great Expectations, by Charles Dickens