Cannes, France
Created | Updated Oct 22, 2002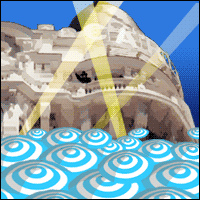 Cannes, a resort along the French Riviera, has long been a playground of the rich and famous. Smaller than its Côte d'Azur neighbour Nice, but rather more upmarket, it's best known for the year-round procession of festivals and congresses, including MILIA, MIP-TV, the GSM Global Congress and, of course, the world famous Film Festival which takes place every May.
Cannes is also a particularly popular winter destination for Northern Europeans. To arrive from the frozen wastes of Finland or Surrey, and to experience the waving palm trees and the balmy breezes of Cannes, is a truly righteous experience.
The history of Cannes dates back to the middle of the first millennium, when a religious community inhabited the nearby Lérins Islands. For centuries, Cannes was a small fishing village inhabited only by sailors and fishermen. Its popularity began to rise after Henry Peter Brougham - First Baron Brougham and Vaux, Lord Chancellor of Great Britain and famous speaker in the House of Lords - built a villa in Cannes in the mid-19th century, whereupon he founded an English colony.
The motto of Cannes is La Vie est un Festival ('Life is a Festival'). Well, if they're so happy about life, why is the Palais des Festivals so monumentally ugly? Take a quiet, rather delightful Riviera town with a magnificent seafront arc sweeping into a picturesque old harbour, and right on the boundary between the two, place a conference centre that looks like a concrete bunker! It's a serious bit of architectural misjudgment.
If you're looking for ways to spend your retirement savings in an afternoon, you can always visit the boutiques peddling the latest wares from the world's foremost fashion designers. Igniting your money is a marginally quicker way to get rid of it, but if you do this in Cannes, you might be mistaken for an artist. Well-to-do visitors can visit classy restaurants and trendy cafés should they have any money left after the day's shopping excursion.
A Cannes Glossary
La Croisettes - Not the early morning killer-cholesterol pastry served by fawning (or, as this is France, snarling) minions in your palatial suite, but the long arc of the main seafront of Cannes. A favourite haunt of permed starlets and poodles (it can be hard to tell the difference), queues of the latest shiny and unobtainable motorcars and motorbikes, and gently waving eucalyptus and palm trees.

Yacht - The essential accoutrement to a stay in Cannes. Clearly, the bigger and more dominating your yacht, the better. Book your berth with care though; you might find yourself at the unfashionable end of the New Harbour, rather than the much more chi-chi Old Harbour.

Hotels - No yacht? You poor thing. It will have to be a hotel for you. Now that you've got yourself into this terrible situation, there is a very definite pecking order as to where to stay, or where to be seen to stay (there is a distinction - ask the staff of the Carlton how many itinerant pretenders are seen tiptoeing out of the back door in the wee hours to trek back to their backstreet hovels).

The pecking order is vaguely proportional to the distance of the hotel from the Palais itself. In the high-roller's corner is the Carlton, with its strategically placed dining terrace, one of the places to be seen. Then there's the Majestic, whose bar is one of the hot spots of Cannes (at £15 a shot, it ought to be, but in its defence the price does include olives). If you find the bar prices here too much for your travel budget, do not under any circumstances wander outside for a breath of fresh air and order a hamburger at the poolside. You'll suddenly find yourself £20 lighter.

Two of the other notables on La Croisettes are the Martinez and the Hilton ('You're at the Hilton? Darling, how, er, daring and, ah, nouveau of you!'). Another colleague at h2g2 Towers was once seen sidling up to the concierge at the Carlton in a slightly desperate and demeaning attempt to bribe his way in, having failed entirely to book in time. The poor chap had to slum it at the Martinez instead.

Villas - So you've neither the yacht nor the matte black credit card required for admission to any of the Palace hotels? How then to achieve the necessary air of cool and sophisticated loucheness? Easy! All you need to do is sidestep the whole sorry game and rent a villa on the outskirts of town instead. If there's a small group of you, the cost for a week will be about that of a round of buttered toast in the Carlton. Also, being able to casually drop in lines like 'Oh, I've just got to pop back to the villa for something', or 'You simply must come and join us for cocktails by the pool' immediately establishes you as an old hand who is far too cool to bother with hotel bragging rights.

Corniche - If you head west from Cannes, towards Fréjus and the on to St. Tropez, you'll find one of the world's greatest and most scenic driving roads which is to be taken at bat-out-of-hell speeds, preferably by Ferrari or Ducati. Do not, for any amount of money, attempt this road in a Citroën 2CV.

Sophia Antipolis - A town and research centre down the coast from Cannes. Alternatively, a pouting French star of stage, screen and beatnik existentialism. Or was that Juliet Greco?
Doing things
Once you've had enough of wandering up and down La Croisettes and posing in the hotel bars, head away from the seafront and check out the shops, markets and restaurants in the rest of town. Worth a visit are the flea market on Saturday held near the Hotel Splendid, and the town's flower market in the Allées de Liberté. The later is very handy for the flowers you need to apologise for your behaviour at one of last night's parties.
The hillside old quarter, Le Suquet, is the town's citadel, and well worth a wander. Moving slightly further afield, take a boat (your own, if so equipped) out to the Iles de Lérins, just offshore from Cannes, which have forests of pine and eucalyptus, fishing villages and a 5th Century monastery.
Despite being plagued with cigar-chomping movie studio barons, desperate screenwriters and affluent socialites, Cannes has managed to retain some of its old world southern European charm, so don't despair.