Eusebio - A Footballing Legend
Created | Updated Nov 8, 2006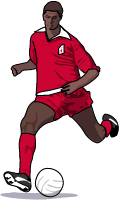 Eusebio da Silva Ferreira was born on 25 January, 1942 in Lourenco-Marques in the Portuguese colony of Portuguese East Africa, now known as Mozambique. In his heyday, 'The Black Pearl,' as he was affectionately known, was spoken about in the same breath and with the same reverence as the legendary Pelé.
The Early Days
Eusebio began his footballing career with his hometown club Sporting Lourenco-Marques1, a nursery club of the Portuguese giants Sporting Lisbon. However, he was stolen from under Sporting Lisbon's noses by their arch-rivals Benfica, following a chance conversation in a hairdresser's salon in Lisbon in 1961.
Seated next to Bela Guttmann, head coach of Benfica, was the coach of Brazilian side São Paolo, who were touring Portugal, and he mentioned the talented youngster he had seen when his side were in Africa.
Within a week, Guttman had flown to Lourenco-Marques and snapped up the 19-year-old Eusebio for Benfica.
The Darling of Benfica
In 1961, Benfica had defeated the Catalan giants of Barcelona 3-2 in Berne to capture the European Cup.
Eusebio made an instant impact at Benfica helping to retain the trophy by becoming part of the first side to defeat the legendary Real Madrid in a European Cup Final. Benfica thrashed the Spanish giants 5-3 in the Olympisch Stadion, Amsterdam2.
His goal-scoring prowess, and trademark spectacular shot, made him one of the most feared strikers in Europe and he was the Portuguese League's top scorer from 1964 to 1968, then again in 1970 and 1973. He was also the top scorer throughout Europe in both 1968 and 1973.
Eusebio and Benfica reached a further three European Cup Finals, but ended up on the losing side each time3.
In his 15 years at Benfica there were only two years when Eusebio didn't win a major honour - 1966 and 1975 (his last year at the club). His achievement of 46 goals in European competition is second only to the great Alfredo di Stefano of Real Madrid's 49 goals.
International Football
In 1961, Eusebio made his debut for the Portuguese national side. As Mozambique, or Portuguese West Africa as it was called then, had not gained independence from Portugal, any player born in the African colony was eligible to play for Portugal.
Although he scored, his debut was marked by profound disappointment as Portugal were defeated 4-2 by Luxembourg in a World Cup qualifying match in Luxembourg.
He went on to make 64 appearances for his country, scoring 41 goals, but his finest hour was, undoubtedly, the 1966 World Cup finals in England.
Eusebio's nine goals helped Portugal to third place in the tournament4 but his most memorable performance came in the quarter final against North Korea. The Koreans had taken a somewhat surprising 3-0 lead, but he inspired Portugal to a 5-3 victory with four goals of his own.
Such was his impact on the tournament, his figure was immediately added to Madame Tussaud's waxwork collection.
After Benfica
Following his retirement from Benfica, Eusebio played in the North American Soccer League (NASL) for the Boston Minutemen, Toronto Metros-Croatia and Las Vegas Quicksilver, and won the 1976 NASL championship with Toronto Metros.
In 1977 Eusebio returned to Benfica to become part of the coaching staff. He is currently a technical director of the club and an ambassador for the 2004 European Championships, which will be hosted by Portugal.
Outside football, he is the President of a coalition committee for the awareness and relief for the flood victims of his native Mozambique.
Career Statistics
International Caps: 64
International Goals: 41
Team Honours:

European Cup winner - 1962;
Portuguese League championship - 1962/63, 1963/64, 1964/65, 1966/67, 1967/68, 1968/69, 1970/71, 1971/72, 1972/73, 1974/75;
Portuguese Cup winner - 1961/62, 1963/64, 1968/69, 1969/70, 1971/72.
NASL championship - 1976

International Honours:

European Footballer of the Year - 1966;
World Cup Golden Boot - 1966.
1Lourenco-Marques is now known as Maputo.
2Real Madrid had won the European Cup for five successive seasons from 1955/56 to 1959/60.
31962/63 - AC Milan 2-1 Benfica (Wembley, London); 1964/65 - Internazionale 1-0 Benfica (San Siro, Milan); 1967/68 - Manchester United 4-1 Benfica aet (Wembley, London).
4Third Placed Play-off: Portugal 2-1 USSR.