John Glenn - Astronaut, Politician and Pilot
Created | Updated Jan 27, 2015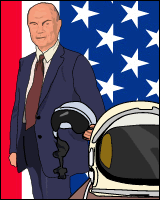 John Herschel Glenn, Jr is an important American in the field of science and aviation and is a hero of the state of Ohio. He was born 18 July, 1921, in Cambridge, Ohio, to John Herschel and Clara Sproat Glenn. He has since become an icon for space travel as the first American to orbit the Earth. Over his years as an astronaut and pilot, Glenn amassed more than 5,455 hours flying time.
Early Life
When he was two years old, Glenn moved from his birthplace of Cambridge, Ohio to the town of New Concord, Ohio. He had a simple, nice childhood, largely without any important conflicts or problems. He later would say, 'A boy could not have had a more idyllic early childhood than I did.'
In New Concord, his father built a rather large home where students from a nearby college often boarded. He was surrounded by older students at a young age, which helped foster his interest in science. His father and mother also encouraged him - his father travelled often and his mother taught him. By the time he graduated from New Concord High School, Glenn had a great interest in science and aviation in particular. He also loved his country and was extremely patriotic.
Glenn then attended Muskingum College1 and received a BS in engineering. Muskingum would later award Glenn an honourary Doctorate in Engineering.
War Service
John Glenn was something of a war hero. He was not well-known to those outside of the military until some time later, but he was definitely a great pilot. Serving in two wars, Glenn flew 149 total missions and recieved six Distinguished Flying Crosses.
World War II
When he was still young, Glenn enlisted in the armed services as a pilot in 1942 (just after Japan bombed Pearl Harbor). He enrolled in the Naval Aviation Cadet Program for World War II and became a marine pilot. Glenn flew 59 missions in the South Pacific for the US during the war and earned two Distinguished Flying Crosses.
His group of aviators (the VMO-155s) had the difficult job of preventing Japanese pilots from counter-attacking the US. His first mission, assigned only a few days after he arrived, was to suppress anti-aircraft artillery. He flew a simple Corsair over Maloelap Island in the Marshall Island. He continued to perform similar missions to Maloelap Island and in four months moved to attack Kwajalein in the Marshall Islands, often using napalm (an infamous tool of aerial warfare).
Korean War
At the outset of the Korean War, Glenn flew F9F Panthers, providing support for ground troops. In the Korean War, Glenn flew with Ted Williams, who had been drafted into the army in the middle of his baseball career.
On one mission, Glenn had a very close call. Aviators were advised to keep going and not turn around to attack artillery after having passed it up. Glenn ignored this directive during one flight and circled around to take out the artiller. His Panther was shot, and Glenn struggled to keep it level. He barely made it back to his base, and, when he got there, he observed a hole in the tail that he could almost fit through. Later, they concluded that a 37mm shell had hit him, because anything larger than 37mm would have taken him down.
He learned from his mistake and never went back in for a second chance again, though he was shot a week later (for different reasons). He flew 63 missions for the US with the Panther.
After these missions, he began to fly with the F-86 Interceptors in the 25th Fighter Interceptor Squadron for the Air Force (rather than the Marines). His plane was decorated with the note Lyn Annie Dave, for his wife and two kids.
When Glenn's group's Colonel was killed in combat, Glenn led missions with two to four others. His job was the 'shooter', which in this case meant air-to-air combat with MiGs2, a job that Glenn enjoyed most. Once, when he spotted one, Glenn chased it for forty miles until he gunned it down in Manchuria.
Glenn encountered yet another close call on 19 July, 1953, after his first encounter with an MiG. 16 MiGs fought with eight of his aeroplanes, the Sabres. He and his group got into a dog fight with the MiGs. He got lucky and escaped alive and destroyed his second MiG in the process.
Only three days later, he downed his third and final MiG (since an armistice was declared a few days later). He had flown 27 Air Force missions in Korea.
Rise of a Pilot
Soon after the war, Glenn entered into the Navy's famous Patuxent River Test Pilot School. After three years, he rose to the rank of major in the Marines.
His first particularly important accomplishment was the first supersonic trans-continental flight ('Project Bullet'). He used a Vought F8U and several fuelings from aerial tankers. He flew from New York to Los Angeles in three hours and 23 minutes at a near-constant speed above Mach 1. This flight made him a minor celebrity and left him regarded as one of the top aviators of the time.
Space
He entered the space programme in the National Advisory Committee on Aeronautics3 for G-Force Tests. He quickly volunteered to orbit the earth as well.
In 1958, Glenn was chosen by NASA to be one of the seven original American astronauts to go into space as a part of the Mercury program. He was considered the go-getter of the group and made it onto the third Mercury Flight, which turned out to be the flight NASA was planning to go into orbit with. He was the stand-by astronaut for Shepard and Grissom, who went into space before him.
On February 20, 1962, Glenn piloted the Mercury capsule, better known as 'Friendship 7', around the Earth three times, making him the first American to be put into orbit. During his ascent into orbit, Glenn famously saw little specks of light outside of his cabin. He referred to them as 'fireflies' as they trickled past the spacecraft. Then the control centre noticed that the landing bag deploy switch was in the 'on' position and it unlocked the position of the heat shield. NASA worried about some problems with the heat shield, but Glenn returned safely despite it.
This accomplishment was not only great for NASA, but also as a milestone for the US as a whole. Since the US had been behind the Soviet Union in the 'Space Race' of the 1960s (Yuri Gagarin orbited the Earth on 12 April, 1961), the Americans felt that they were catching up somehow. The phrase 'God speed, John Glenn' became embedded in American folklore.
Wherever he went, John Glenn was famous. As the third human into orbit, he was awarded several medals and honoured by many. He made a speech to Congress and was given a ticker-tape parade in New York City.
Unfortunately, President John F. Kennedy ordered Glenn not be put into space again because he was so famous. He was considered too important a national icon to be put into another risky flight. He served as an advisor to NASA until 1964.
Politics and Business
When he left NASA, his friend Robert Kennedy encouraged Glenn to go into politics. On January 17, 1964 he announced that he would challenge incumbent Ohio Senator Steve Young for the Democratic Nomination for his seat. He suffered a nasty fall on 26 February, 1964, though and had to pull out of the race in March.
On 1 January, 1965, Glenn retired as a Colonel and started his career in business. He then joined the Royal Crown Cola Board of Directors, and was later made President of Royal Crown Cola International.
When Robert Kennedy was assassinated in 1968, Glenn was in Los Angeles helping Kennedy with his campaign. He told six Kennedy children about the assassination and was a pall-bearer at his funeral. In 1969, Glenn resigned as President of Royal Crown Cola, but remained on the board of directors.
By 1970, the senatorial election had come around again, but he lost the Democratic nomination to Howard Metzenbaum. He then formed a group called the Buckeye Executive Club, which campaigned for Democratic nominee for governor of Ohio, John Gilligan. In 1972, after John Gilligan was elected, Glenn was put on the State of Ohio's environmental task force.
In 1974, Glenn ran for the Senate again and won very easily. Glenn became a very involved, hard-working senator. Some of his accomplishments involved policies about energy, governmental issues4 and weapons control5. In 1976, Glenn was considered as presidential candidate Jimmy Carter's running mate, but Walter Mondale was ultimately chosen for his greater experience.
In 1983, Glenn announced his bid for President. However, he would withdraw from the Democratic Primary race in 1984. He remained as a Senator through 1998. In February of 1997, Glenn announced he would not seek another term.
The Last Frontier... again
On October 29, 1998, Glenn, at age 77, became the oldest person to go into space when he went up aboard the space shuttle Discovery. The purpose of his mission was to conduct experiments on the aged in space and deploy a device to monitor the sun. His mission was highly successful and he returned unharmed on 7 November, 1998 after 314 orbits and nine days in space to his second ticker-tape parade in New York City.
On 7 May, 1999, Lewis Research Center was officially rededicated as John H Glenn Research Center at Lewis Field. The name-change was proposed by Ohio Senator Mike DeWine and signed into law by President Bill Clinton. The man after which Lewis Field was named was George Lewis, another influential man in aviation.
1Which happened to be the nearby college that older students would stay in.
2He patrolled an area near Yalu, called MiG alley. He often complained about the lack of MiGs though.
3The predecessor of NASA.
4He was chairman of the Governmental Affairs Committee from 1978 to 1995.
5Glenn was the chief author of the 1978 Nuclear Non-Proliferation Act.