h2g2 Musicians Guild
Researcher U150368
h2g2 Musicians' Guild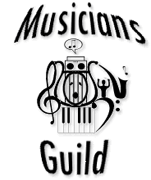 The Musicians' Guild is a virtual community for musicians, singers, composers, and other musical afficionados at h2g2. To join up, visit the Members Page or post a message below. To keep track of MuG news which is posted in the form of journal entries, add the guild as one of your "friends" (by clicking on the "Add to Friends" link at the top-right of this page while logged in).
Members
There are over 400 Guild members (MuGs), representing a wide variety of musical interests and talents. If you have a question related to music you'd like to pose to the MuGs, simply post a thread at the bottom of this page.
The Guild maintains a Members Page. It lists our members, and you can also apply for membership there. The Guild does not discriminate against less talented applicants - all that is required is the proper enthusiasm about music!
The people currently responsible for maintaining the Guild pages are Danny B. and his sidekick Farlander, with the part of the obligatory furry animal now being played by SEF. If you have a question about the Guild pages, drop them a line and one of them will get back to you as soon as possible. The Guild was originally set up by Fragilis the Melodical, who also drops by here from time to time.
Guild Pages
Conversation Title

Latest Post

Latest Reply

No Posting

No Replies

No Replies
Title

Status

Created

This user has no Entry subscriptions
Researcher Details
Name: h2g2 Musicians Guild

Most Recent Approved Entries
This user has not written any Approved Entries.
Disclaimer
h2g2 is created by h2g2's users, who are members of the public. The views expressed are theirs and unless specifically stated are not those of Not Panicking Ltd. If you consider any Entry to be in breach of the site's House Rules, please register a complaint. For any other comments, please visit the Feedback page.
h2g2 Musicians Guild has no Friends
This user has no Bookmarks