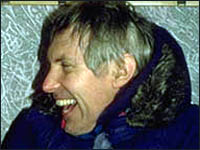 Hot off the press! "Doc Palfrey returns in an action-packed international adventure for a new generation of thriller readers." Richard's first novel was Eternity's Sunrise, also published are Wings of Fear, Burning Night, Deadly Sleep and Hard Targets.
Richard is Chairman of the Television Trust for the Environment (TVE), which was set up by the United Nations Environment Programme (UNEP), the World Wide Fund for Nature (WWF), and Central Independent Television, where Richard then worked. He has been a Trustee of Wildscreen, a UK Council member of the WWF, and a member of two Advisory Committees of the Arts Council.
From 2001 to 2004 Richard worked for the BBC after BBC New Media bought the highly acclaimed h2g2 community website. Richard was a Founder and Editor-in-Chief at h2g2 Ltd, which was formed in 1995 by a group of leading thinkers and doers from the on-line, television and literary worlds, including the late Douglas Adams, author of the Hitch Hiker's Guide to the Galaxy. While at the BBC Richard presented his first ever radio series Crossing the Boundary.
Between 1991 and 1994, Richard was, at the same time, Director of Special Projects at Central Independent Television and Director of Network Factual Programmes at Meridian Broadcasting.
During his spell at Meridian Richard conceived the Ford London New York Overland Challenge and was team leader of the expedition, which set out from London on December 27th 1993 via the Siberian deep freeze, to a triumphant arrival at United Nations headquarters in New York on April 5th 1994.
Previously Richard was Central/ATV's longest serving programme controller. For 14 years he was responsible for all aspects of the company's award winning features and documentary output.
During this time Richard founded the East West Creative Association (EWCA), the first creative multi-media joint venture between the Soviet Union and the UK. Ten years on EWCA split into two companies, and Richard became a Founder Director of BUR Media Group and BFC Media which, for ten years, distributed Disney and Colombia TriStar films throughout the CIS. In April 2003 BFC Media opened the first ever IMAX theatre in Moscow, Russia.
Richard's father John Creasey, who died in 1973, was the world's most prolific writer. He published over 600 books following 743 rejection slips, with worldwide sales of over 80 million copies in at least 5000 different editions in 28 different languages. John introduced Richard to that wide world of adventure and travel, indeed Richard and his brother Martin were driven round the world for 465 days in the back of their parents' car when Richard was 5 and 6. Richard is a keen pilot and used to have his own small aeroplane.
And last, but not least, a film script inspired by Meet Dog Hero, Richard's first book, was commissioned by a Hollywood Studio joint venture.