The Liquid Warrior (Vescere bracis meis)
Researcher U596262
THE LIQUID WARRIOR

Recedite, plebes! Gero rem imperialem. "I am The Liquid Warrior In The Holy Crusade Against The Tee-Total". Pull up a barstool and I shall treat you to an

Re vera, potas bene.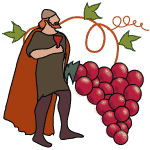 Welcome I turn no-one away from this site, be they drunk or sober. All are welcome. I studied for a Bachelor of Arts Degree at the Open University. I have visited various countries, interested in the cultures, architecture and arts. Damn! doesn't that make me sound pretentious? I enjoy lateral thinking problems, jokes
and Sherlock Holmes, however, I'm a virulent anti-smoker. In my spare time I dabble in writing and have had minor success with various short stories. Also I am involved in quite a bit of charity work, recently taking disabled children trout fishing.

Now that you have had a look around and found out a bit about me why not leave me a message
Delete this to leave me a message
Who is online
Messages left for this Researcher

Posted
Conversation Title

Latest Post

Latest Reply
Title

Status

Created

This user has no Entry subscriptions
Researcher Details
Name: The Liquid Warrior (Vescere bracis meis)

Most Recent Approved Entries
This user has not written any Approved Entries.
Disclaimer
h2g2 is created by h2g2's users, who are members of the public. The views expressed are theirs and unless specifically stated are not those of Not Panicking Ltd. If you consider any Entry to be in breach of the site's House Rules, please register a complaint. For any other comments, please visit the Feedback page.
This user has no Bookmarks