BicycleSkald
Researcher U222482
Hey! Who's The New Guy?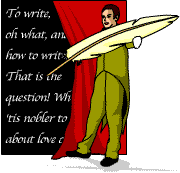 Greetings, ! My real name is Patrick, and I am an actor and playwright from Portland, Oregon, USA.
Vital Statistics
Date of Birth: March 18th, 1976.
Height: 5 feet 10.5 inches.
Weight: Approximately 160 pounds.
Hair: Bald.
Eyes: Blue.
Occupation:
English Student at Portland State University.
Marital Status: Married, as of July 6th, 2002.
Religion: Vipassana Buddhist.

Okay, why the name "BicycleSkald"?
Everybody asks me this. Close your eyes and imagine something, if you will: imagine for a moment a horde of vikings. A horde of vikings, on ten-speeds. With huge smiles on their faces, they wave their swords above their heads and sing Queen's "Bicycle Song" at the top of their lungs.
Yeah, okay. I'm a freak.
Actually, it's just a amalgamation of two of my interests: bicycling, and norse mythology. I'm rather an amateur at both, but what the hey? I say, whatever floats your boat and doesn't sink your ship.

An Artsy-Fartsy Kinda Guy
I've been an actor for fourteen years, over half my life. I've worked with such portland companies as Stark Raving Theatre (who are currently putting on a new work by a local playwright, Tundra, which has gone on to win the Kennedy Center Award), Portland Actors Ensemble, Bridge City Production (now defunct), Teatro Milagro, and Liminal Performance Group. Some of my favorite roles have been Sebastian in The Tempest; Sebastian in Twelfth Night (go figure); Robert Bridges in Where No Storms Come, a biopic about the final days of poet Gerard Manley Hopkins; and Ted in the upcoming Three Plays Five Lives, a new work that features three plays acted simultaneously by the same five actors.
I'm about a year from earning my B.A. in English, and after I get out I hope to go on to an M.F.A. program in Writing. My short fiction won me the Art Kreisman Award for Creative Writing from Southern Oregon University, and I was recently nominated for the Nina Mae Kellogg Outstanding Senior in English award.
To Sum Up
Obviously none of this is a really really comprehensive introduction to me. By all means, feel free to write me a message: I love meeting new people. TTFN!

Patrick, "BicycleSkald"
Messages left for this Researcher

Posted
Conversation Title

Latest Post

Latest Reply

No Posting

No Replies

No Replies

No Replies
Title

Status

Created

This user has no Entry subscriptions
Most Recent Approved Entries
Entries
This user has not written any Approved Entries.
Disclaimer
h2g2 is created by h2g2's users, who are members of the public. The views expressed are theirs and unless specifically stated are not those of Not Panicking Ltd. If you consider any Entry to be in breach of the site's House Rules, please register a complaint. For any other comments, please visit the Feedback page.
BicycleSkald has no Friends
BicycleSkald has no Followers
This user has no Bookmarks