Hello.
There is no Malaclypse. There is no H2G2. This is not the personal page of Malaclypse, who does not exist, on H2G2, which is not a site.
This is not a conspiracy. Repeat.
""To abolish God!" said Gregory, opening the eyes of a fanatic. "We do not only want to upset a few s and police regulations; that sort of anarchism does exist, but it is a mere branch of the Nonconformists. We dig deeper and we blow you higher. We wish to deny all those arbitrary distinctions of vice and virtue, honour and treachery, upon which mere rebels base themselves. The silly sentimentalists of the French Revolution talked of the Rights of Man! We hate Rights as we hate Wrongs. We have abolished Right and Wrong.""
G K Chesterton, The Man who was Thursday
Fnord.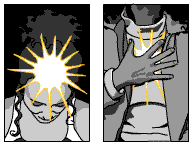 Messages left for this Researcher

Posted
Conversation Title

Latest Post

Latest Reply

No Posting
Title

Status

Created

This user has no Entry subscriptions
Most Recent Approved Entries
This user has not written any Approved Entries.
Disclaimer
h2g2 is created by h2g2's users, who are members of the public. The views expressed are theirs and unless specifically stated are not those of Not Panicking Ltd. If you consider any Entry to be in breach of the site's House Rules, please register a complaint. For any other comments, please visit the Feedback page.
This user has no Bookmarks