I. Pentameter, Unofficial Facilitator and Distributor of Poetry, Short Stories, and other forms of Cruel and Unusual Punishment
Researcher U218885
Pentameter's Poetry and Short Story Project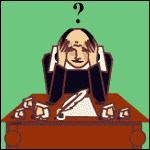 This is a page to be extremely interested in if:
a)You want to display your poetry, short stories, etc., and you are either an h2g2 researcher or a friend of mine.
b)You like reading short pieces of writing from kids and adults.
If you want to add a longer story, I'll add it as a guide entry just so that the page doesn't become too overwhelming. I'm patiently waiting for any submissions (as long as they are appropriate and are your own work). Getting less and less patient, of course...
---
If you want to e-mail a poem, my h2g2-only address is pentameterh2g2@msn.net. You da
!
---
Randomly Oscillating Thought Experiment Du Jour
What kinds of questions would you like to see in ROTEDJ? Responses, please, to 6/19/03!
My Work
I've decided to let a trickle of my own poems (usually very short, mysterious, quasi-lame free verse-ette ones) leech into the page, sort of like acid eating through a wall.
Not My Work (this should be longer!)
Nothing? C'mon!
---
Note to visiting friends and/or acquaintances:
My alter ego prefers to remain anonymous. He likes it that way. Trust me. I'd appreciate it if you'd not spread his identity around. Thanks.
---
Another (more important) note:
I have shared my password with some friends who may need to add poetry frequently. For these honored persons:
1. To add short and medium-sized poems (or very short stories), press "edit page". You will probably need to read a good part of
this
page before you understand how to do horizontal lines and paragraphs and new lines and all that good stuff. The
Guide ML Clinic
is also an excellent resource and contains info on many more tags.
2. To add longer material, you must save it as a guide entry. First,scroll down and click on the "Click here to add a new Guide Entry" button. Add a subject and place your work in the "Content" box. You can include headings, lines, subheadings, and other GuideML content in this box if you have "Guide ML" selected as an option below the "Content" box. Once you have finished, preview it. Then, update it.
---
Note Three:
I have a new alter-ego, making me officially two-no, wait, three-people. He calls himself Semiquaver. We call him Timmy.
Go over and give him a poke if you've got a minute.
---
Note Four (this is getting ridiculous!):
My alter-ego is slightly better at responding regularly to conversations, so if you want a quick answer to something, click on the link above.
Messages left for this Researcher

Posted
Conversation Title

Latest Post

Latest Reply
Title

Status

Created

This user has no Entry subscriptions
Researcher Details
Name: I. Pentameter, Unofficial Facilitator and Distributor of Poetry, Short Stories, and other forms of Cruel and Unusual Punishment

Most Recent Approved Entries
This user has not written any Approved Entries.
Disclaimer
h2g2 is created by h2g2's users, who are members of the public. The views expressed are theirs and unless specifically stated are not those of Not Panicking Ltd. If you consider any Entry to be in breach of the site's House Rules, please register a complaint. For any other comments, please visit the Feedback page.
I. Pentameter, Unofficial Facilitator and Distributor of Poetry, Short Stories, and other forms of Cruel and Unusual Punishment has no Friends
I. Pentameter, Unofficial Facilitator and Distributor of Poetry, Short Stories, and other forms of Cruel and Unusual Punishment has no Followers
This user has no Bookmarks