Welcome to Liz World
Me, myself and I
I live on a small planet called earth.
, in a little country called Great Britain and in a town called Ipswich, which is quite pleasant actually.
I am a member of the Random Quotes Guild.

"Outside of a dog, a book is man's best friend. Inside a dog it is too dark to read." – Groucho Marx
""I think that God in creating man somewhat overestimated his ability." – Oscar Wilde
I was born in Newbury, Berkshire in May 1967. I lived in Hampshire, Berkshire, Oxfordshire and Lincolnshire before moving to Suffolk in 1988. My parents still live in Lincolnshire (well, somebody has to) and my younger brother (who's name is Jon and who is a top bloke) lives in Birmingham.
I enjoy reading, going for long walks, listening to music, writing letters and e-mails, hanging around on BBC DNA sites and writing my weblog Ordinary World . I very occasionally do a bit of fiction writing, but having had a couple of (VERY) small things published, I've got bored with that particular hobby.
… and now for something completely different …
I'm also a member of 'The h2g2 Monty Python Fan (Pythonist) Society'(although I'm not sure if they ever actually added me to their page)

'The Life of Brian' is my favourite film and provided my family with a charming nick-name for me – Incontinentia.

I've done lots of different jobs, including working in a shop and being a clerk typist, a secretary and a credit controller (but not all at the same time). Since the autumn of 2002 I have been employed as an Administrative Assistant by Suffolk College. It's a very dull job, but aren't they all?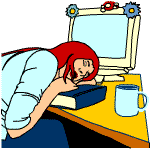 Messages left for this Researcher

Posted
Conversation Title

Latest Post

Latest Reply

No Posting

No Posting
Title

Status

Created

This user has no Entry subscriptions
Most Recent Approved Entries
Disclaimer
h2g2 is created by h2g2's users, who are members of the public. The views expressed are theirs and unless specifically stated are not those of Not Panicking Ltd. If you consider any Entry to be in breach of the site's House Rules, please register a complaint. For any other comments, please visit the Feedback page.
This user has no Bookmarks