I am Boots
Having been here since January 7th 2003 but on sabatical for the last few years, no longer feel that 'Hi new member so be gentle' is relevant. Fully understand that it is not a cool way to introduce yourself and knowing 'cool' is important accept my failure.
Started off as 'old dog' but after losing password (it would seem that many of us suffer from this affliction), felt that 'useless hound' was more appropriate. With no mates to contradict, believed that old, dog and useless were all valid descriptions. Hound just sounded more impressive.
After attending my first unofficial h2g2 meet on January 10th 2004 and realising that no-one had a clue who useless hound was, decided that I should change my name by hootoo deed poll. Henceforth I shall be known as Boots, which is the name you all seem to know me by.
My arrival in this galaxy was the result of some over enthusiastic foreplay on the part of a rather stupid and egotistical Great Dane (my father) with an equally intellectually challenged but overly trusting golden Labrador. This unlikely and (from my mother's perspective), innocent, coupling was noticed by a 'happened to be passing' creative and somewhat sadistic alien, who thought it might be fun to expand the event to a threesome. The genetic consequence, myself, is nothing short of disaster. My passport photo is a bad likeness and my nursery school reports do not bode well for my future. The remnants of my paternal ego genes are littered about the bit of the universe surrounding my home, the kennel, which is where, more often than not, I can be found, licking my paws whilst chewing the most comforting corner of the security blanket towel which was my mother's last legacy. Were I not handicapped in terms of both size and acoustics... my bark and bulk being far more suited to another, I could possibly lay low for a few million years until this galaxy has moved on. Alas inquisitiveness, stupidity, and a canine's natural need to be loved and petted will be my undoing...once the ball has been thrown, I have to run.
Take care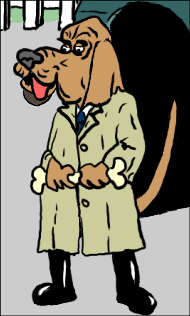 Boots. (Keeper of the Pink Flipper)
Affording the greatest respect to my betters
A girl called Ben
Pinniped
Hypatia
(the beautiful soul)
The Snockerty Friddle
Dr Deckchair Funderlik
(rather a good read)
Amy the Ant
Dr Montague Trout
Shazz
The Post Team
Oh and
Jodan
Me old barber mucker who is now almost grand!
Special thanks to
Waz
for making me re-write 16,000 words. Cheers Waz!
A short cut to
smileys
And the coolest bar in town
Lil's Atelier

Here's where you can find all the Post's
Back Issues
PS - Suspect I will never get the hang of smilies or guide whatever... so can't make this page look pretty1. The 'my friends' link is where I put researchers I have read and found interesting or people I have spoken to...This is not a presumption of friendship but rather a navigational tool for the computer challenged.
Boots.
My doggy (or should that be dodgy?) archives
42-ism- ((21*4)/2)-21
that or I don't exist 21+21-42=0...back to the kennel.
1But my favourite wolf Jodan did
Messages left for this Researcher

Posted
Conversation Title

Latest Post

Latest Reply

No Posting

No Posting

No Posting

No Posting

No Posting
Title

Status

Created

This user has no Entry subscriptions
Most Recent Approved Entries
Disclaimer
h2g2 is created by h2g2's users, who are members of the public. The views expressed are theirs and unless specifically stated are not those of Not Panicking Ltd. If you consider any Entry to be in breach of the site's House Rules, please register a complaint. For any other comments, please visit the Feedback page.
This user has no Bookmarks