If you think this looks bad you should see my face...
Hi welcome to my page. I am a 23 year old from Birmingham UK. To all you Americans, thats a country so don't go asking me which state the UK is in, ok?
I currently work in a supervisery role with some fancy title that actually means nothing lol.
My hobbies are World war two battle ships and submarines, yes I am that sad lol. I also build computers (Geek alert) and like reading different area of science and about religions. I also have a big tropical fish tank, obviouslt full of fish, and another tank with two soft shell turtles in.
Interested in finding out what religion you actaully believe in, or what religion matchs your beliefs then try the BELIEF 'O' MATIC to day, even if your not religious or agnostic.
I have written a few short entries on Islam on this site and I hope people like my small effort in increasing peoples knowledge about this religion. I hope to add more entries on other subjects too at a latter date.
Book I most recomment to read
I recommend that all people read this book: What's right with Islam IS What's Right with America also called "Whats right with Islam" by Imam Feisal Abdul Rauf who is the head Imam of the Mosque a few blocks from where the world trade centre used to stand. The book instead of seeking blame for the differences in the west and the Muslim world looksat the history and common ground between the two and is a stepping stone for peace between these two groups.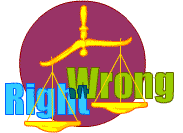 A interesting story I have heard
While at the park one day, a woman sat down next to a lady on a bench near a playground. "That's my son over there," she said, pointing to a little boy in a red sweater who was gliding down the slide. "He's a fine looking boy," the lady said. "That's my son on the swing in the blue sweater." Then, looking at her watch, she called to his son. "What do you say we go, Sameer?" Sameer pleaded, "Just five more minutes, Mummy. Please? Just five more minutes." The lady nodded and Sameer continued to swing to his heart's content. Minutes passed and the mother stood and called again to her son. "Time to go now?" Again Sameer pleaded, "Five more minutes, Mum. Just five more minutes." The lady smiled and said, "O.K." "My, you certainly are a patient mother," the woman responded. The lady smiled and then said, "My older son Haitham was killed in a road accident last year while he was riding his bike near here. I never spent as much time with Haitham as I could have, and now I 'd give anything for just five more minutes with him. I've vowed not to make the same mistake with Sameer. He thinks he has five more minutes to swing. The truth is, I get five more minutes to watch him play."
Back 10 centuries ago, just before the crusade is launched, the Pope decides that all the Muslims have to leave Jerusalem peacefully or there would be bloodshed. Naturally there is a big uproar from the Muslim community. So the Pope strikes a deal. He would have a religious debate with a member of the Muslim community. If the Muslim won the debate, all the Muslims can stay. If the Pope won, all the Muslims would have to leave.
The Muslims realise that they have no choice. They look around for a champion who can defend their faith, but no one wants to volunteer. It's too risky. But they do finally pick their representative, an old Mullah who unknowingly agrees without knowing what he is getting himself into. He agrees on the condition that neither side be allowed to talk but communicate by miming as he is deaf. The Pope agrees.
The day of the great debate comes. The Mullah and the Pope sit opposite each other for a full minute before the Pope raises his hand and shows three fingers. The Mullah raises his middle finger.
The Pope waves his fingers in a circle around his head. The Mullah points to the ground and stamps his right foot.
The Pope pulls out a wafer and a glass of wine. The Mullah pulls out an apple. The Pope stands up and says, "I give up. This man is too good. The Muslims can stay."
An hour later, the cardials are all around the Pope asking him what happened. The Pope says, "first I held up three fingers to represent the Trinity. He responded by holding up one finger to remind me that there is still one God common to both our religions. Then I waved my finger around me to show him that God was all around us. He responded by pointing to the ground and stamping his feet, telling me that God was also right here with us. I pulled out the wine and the wafer to show that God absolves us from our sins. He pulled out an apple reminding me of the first sin. He had an answer for everything. What could I do?"
Meanwhile, the Muslim community have crowded around the old Mullah in total astonishment. "What happened?" they ask. "Well," says the Mullah, "first, he said we Muslims had three days to leave Jerusalem. I told him up yours. Then he said that this whole city would be cleared of Muslims. I told him none of us leaving this land!"
"And then?' asks a woman."
"He took out his lunch and I took out mine," says the Mullah.
Thanks for taking time out to read my apage, I hope you liked your stay
On the spiritual path no one has higher or lower status than anyone else. -Nizam al-Din, "Fawa'id al-Fu'ad"
Ta Ta
Rik
Messages left for this Researcher

Posted
Conversation Title

Latest Post

Latest Reply

No Posting

No Posting

No Posting
Title

Status

Created

This user has no Entry subscriptions
Most Recent Approved Entries
Disclaimer
h2g2 is created by h2g2's users, who are members of the public. The views expressed are theirs and unless specifically stated are not those of Not Panicking Ltd. If you consider any Entry to be in breach of the site's House Rules, please register a complaint. For any other comments, please visit the Feedback page.
This user has no Bookmarks