Sir Auron
Researcher U201297
Enter, Stranger
Hello and welcome to my domain.
I've recently overhauled this page and cant really remember how to write in this computer language thing
Just in case you get excited about this pge i will warn you in advance I have not the faintest idea of what to say, short of recommending the brilliance of the red hot chili peppers live and perhaps talking about music i like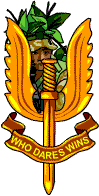 My favourite band are the Red Hot Chilli Peppers. I have 5 of there albums: Blood Sugar Sex Magic, Californication, Bye The Way. What? Hits and One Hot Minute
In my opinion the top five Chillis Songs.
1. Can't Stop
2. Parallel Universe
3. Californication
4. Give it Away
5. take it slow

I supppose I could always go for the reliable conversation filler of givin some personal information (tho this is more of a monologue) Well, I am called Fraser (should have put that at the start) And am 17 and i 6th year at school. I enjoy listening to music, playing sports and am partial to the odd game of Vampire:the Masquerade.

Final Fantsy X is the leatest in Square Soft's series of top-selling games. You play the role of Tidus, a blitzball player from Zanarkand tacken back in time by Sin. This great game combines a great storyline with good gameplay and graphics for a fantastic game overall.
Yea I know a samuri doesn't have much to do with FFX but it was the best i could find.
The most intereting character is Sir Auron, he seems really mysterious at the start but inside he's a good person.

But if you want to know more you will have to play it for yourself
Glasgow Rangers come from Glasgow, Scotand (obviously). They play in blue and are rivals wth Celtic. They have won over 100 trophies in their log history including the European Cup-Winner's Cup. My favourite player is Lorenzo Amoruso who is a brilliant, if somewhat erratic, defender
"The networks at work,
Keepin people calm
You know they murdered X
And tried to blame it on Islam
He turned the power to the has-nots
And then came the shot"
If anyone has any ideas fr stuff to add to/improve this page just post a mesage.
Messages left for this Researcher

Posted
Conversation Title

Latest Post

Latest Reply
Title

Status

Created

This user has no Entry subscriptions
Most Recent Approved Entries
This user has not written any Approved Entries.
Entries
This user has not written any Approved Entries.
Disclaimer
h2g2 is created by h2g2's users, who are members of the public. The views expressed are theirs and unless specifically stated are not those of Not Panicking Ltd. If you consider any Entry to be in breach of the site's House Rules, please register a complaint. For any other comments, please visit the Feedback page.
This user has no Bookmarks