Red Dwarf's B-H-P-U
Newblood? | Red Dwarf | Online? | Coming Up | Stargate Command | Jedi Academy
This is the Personal Space of [...]. Unfortunately [...] doesn't seem to have-- Oh wait here it is:
3 MILLION YEARS IN THE FUTURE, THE MINING SHIP: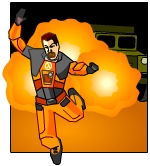 READ MY 'THANKS FOR DISCWORLD' STORY... IT'S QUITE A JOLLY GOOD LAUGH... POSSIBLY...
Return of the Fiction Central Link!
That's right, after a long absence from this space, the link to Fiction Central is back which used to live here when this space was but an intro and Pratchett cathedral link and I was The Discworld's Pythonist...


Fiction Central Hub
Look, Use The Force
The Jedi Academy RPG that is alive and fairly well thanks to those players who haven't given up on it. As such it is a healthy two years old this August (3rd 2003)!

But if you wanna drop the sci-fi from 'sci-fi fantasy' you're probably gonna do well here: Magicians Guild
Pray To The God...
IF YOU HAVE A LOVE FOR BEARDED AUTHORS WHO WEAR LOUISIANA HATS, HAVE LITHPS AND UNPWENOUNCABLE 'R's... TAKE TO THE PARAPET AT THE CATHEDRAL HERE...
The Cathedral Of Terry Pratchett
1You try being graphically projected on a site which has no 'real' moving pictures.
Messages left for this Researcher

Posted
Conversation Title

Latest Post

Latest Reply

No Posting

No Posting

No Posting

No Posting
Title

Status

Created

This user has no Entry subscriptions
Most Recent Approved Entries
Disclaimer
h2g2 is created by h2g2's users, who are members of the public. The views expressed are theirs and unless specifically stated are not those of Not Panicking Ltd. If you consider any Entry to be in breach of the site's House Rules, please register a complaint. For any other comments, please visit the Feedback page.
This user has no Bookmarks