Quille the cynic...TC
Researcher U196603
Under Construction----
MAKE THIS PAGE DIGIBOX FRIENDLY

Hello all. I'm redoing my space. My old one is available for whatever info you used on there, still intact. I shall get around to it eventually. Need to brush up on GuideML- I actually forgot how to do a LINK!

Here are other ACEs to question if I'm not around. They're brilliant!
(1+9)6-(6+0)3=42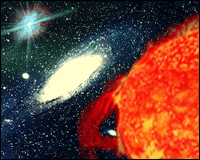 Links listed in no specific orderH2G2 Picture LibraryGuideML ClinicHelp Page of GuideMLThe PostH2G2 StatisticsCool table thing
Synopsis of me
-Here goes. I'm the kind of person you look at sideways and wonder if it'll ever please just stop speaking and speaking and ranting about pointless topics no one cares about and finally start making some sense and not use run on sentences with so many conjunctions, but I've been described as vivacious, dynamic, intelligent, funny, witty, bright, sweet, and intriguing as well 1. I'm also 15, love reading, art (all kinds from 2-D to 3-D to graphic design and animation and all that in between), film, comedy, computers 2, anything interesting and live in Florida, USA. Yes, I have quite a few things to say about that. Here's our number one 3 inhabitant:

----Begin h2g2 code Block----
Version 1.1
RA Y N++ SG+ A++ P<++:P<+ L--* M S+ V+>+ E- PR- p>+ a- B++ TV r D T+ nh? C+ t+++
----End H2G2 Code Block----
Once I make a link I'll fill in some more information. Actually, I think I should take a poll on what to put on my space--
Conversation Title

Latest Post

Latest Reply

No Posting

No Posting

No Posting
Title

Status

Created

This user has no Entry subscriptions
Researcher Details
Name: Quille the cynic...TC

Most Recent Approved Entries
This user has not written any Approved Entries.
Disclaimer
h2g2 is created by h2g2's users, who are members of the public. The views expressed are theirs and unless specifically stated are not those of Not Panicking Ltd. If you consider any Entry to be in breach of the site's House Rules, please register a complaint. For any other comments, please visit the Feedback page.
This user has no Bookmarks