John.Ridgway
Researcher U189365
John Ridgway - On A Wing And A Prayer
PREVENTING THE NEEDLESS SLAUGHTER OF THE ALBATROSS
Contents | Photos | Crew |Log | Press | RSPB |
---
In the Rime of the Ancient Mariner, Samuel Coleridge tells of the terrible price paid for killing just one albatross. What price might the human race have to pay for killing all the Albatrosses?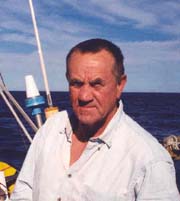 I'm John Ridgway. When Chay Blyth and I rowed across the North Atlantic in 1966, the US Coastguards said it was 95% certain we would die: in fact it turned out to be 50%. David Johnstone and John Hoare who were rowing at the same time, were drowned and I have never forgotten it. Since then, I have tried to look on every day as a bonus.
Looking back now, I would have to agree with those who have said "There is a Right way, a Wrong way and a Ridgway". That's the way I like it!
In July 2003 I will be 65 and I look forward to receiving my State Pension Book, at last, for which I have been saving for the past 47 years. Like many of my contemporaries, I would like to look forward to something a little more purposeful than countless circuits of the golf course. I want to do something, to make a Difference.
I am but one individual, among 6000 millions on this planet. I have no affiliation, no debts, no creditors, no sponsorship, no political or religious leanings.
I say needless because unlike the whale, which can at least be eaten, there is no possible human requirement for any part of the albatross. Symbolised by the wandering albatross, the Southern Ocean is a wild and lonely place, where you can sail for weeks without seeing any trace of Man. There are simple mechanical means which would prevent the albatross from being caught by long liners, all that is needed is the WILL to enforce them.
By the time we reach the albatross this autumn, I will have been in the Southern Seas in some part of each of the past six decades. For me the albatross symbolises the triumph of the human spirit. I'm going to help it.
Into the mist... John Ridgway
Ardmore
February 2003
Back to the Contents page
Messages left for this Researcher

Posted
Conversation Title

Latest Post

Latest Reply

No Posting

No Posting

No Posting

No Posting

No Posting
Title

Status

Created

This user has no Entry subscriptions
Most Recent Approved Entries
This user has not written any Approved Entries.
Disclaimer
h2g2 is created by h2g2's users, who are members of the public. The views expressed are theirs and unless specifically stated are not those of Not Panicking Ltd. If you consider any Entry to be in breach of the site's House Rules, please register a complaint. For any other comments, please visit the Feedback page.
John.Ridgway has no Friends
This user has no Bookmarks