Lurcher
Researcher U185726
You`ll probably think it wasn`t worth the effort,....but....
Now you`re here, ,you may as well have a look round. Pour yourself a drink, it`s on the house!
---
Lurcher's Temporary Resting Place
---
---


---
---
[(18+5+7)+(2x6)]=42.

---
Any way the wind blows
---
This page changes from time to time, usually when I feel the need to brush up on my GuideML
If you are visiting for the first time..you`ve missed nothing.
I had intended to keep things simple..but then XXX-Rambling started me off, and now ..........
Ah well..it all helps to pass the time!
Welcome !!..
Lurcher (Of direct Lupine descent).....(ok) AR1 ?....
**********************************************************************************************************
A Place Apart
**********************************************************************************************************

In a remote corner of the Derbyshire moors, overlooked by bleak and windswept Kinder Scout, time has stood still for over ten thousand years.

By an inexplicable Time/Space Warp, this area within an area, frozen in time, but expanded in space, exists.

Undetected by the modern world, this magical place, this Place Apart, teems with life; life that must fight to survive. Here, since time immemorial, predators have reigned, unchallenged. Of all the predators that range these vast tracts of beautiful, cruel and unforgiving wilderness, the Wolf reigns supreme.

In this place of peace and tranquillity, of danger, and often sudden death,

life is lived, or lost, by Nature`s rules.

Here, at least, conservation is not , and never will be, ,an issue. Technology is meaningless, having no point of reference in a world that can never change

Nothing can be brought here, or taken away. For those that discover the way here, it can be a Paradise. Or it can be the death of you, for here, danger is never far away.

This, then, is A Place Apart.
Come here and sing your songs, recite your poetry. Wander the silent spaces,
fill your lungs with the cleanest, freshest air on the planet. Always be aware, though, that you could be at risk.
I come here often. To me it is a place of beauty, a place of escape.
I am never in danger.
I am among friends.
The odd link or two:
Click here to see who's online.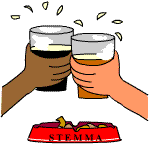 (Lurchers Hideaway)

"Go Here"
Crossword Info
(My Hometown)
"Clever Stuff"
Mind Games
---
---
Some of the things I`ve been or still am involved with.
---
Pride of place, I`m proud to be an HONORARY
---
---
I am a member of The H2G2 Queen Fan Club, which is a club each and every Person who has ever heard any Queen Song should Check out!
Click to visit The H2G2 Queen Fan Club .
---
---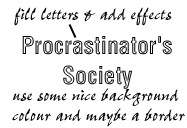 ---
---
Seem to remember being elected as PROTECTOR OF ETHICAL TIPSINESS (POET) in the
Church of the Holy Tail
....Never made the official members list though..(shows how fast things get done on h2g2)...Nudge, Nudge!
---
---
Now, by way of contrast, somehow or other, I find myself listed as a Loyal Supporter in the
The Temple of BLEEP!
, ..Could have a lot to do with the two gorgeous Priestesses, Michele and Batty..
.. and Thog ain`t too bad either, at least he`ll never see you with an
!! May the
long be with `em..
---
I'm also a member of the
United Friends of h2g2
. A worthwhile organisation if ever there was one!
---
---
...Bits and pieces, as they occur to me...
---
This would be the place to include some personal information, but the picture on the right says it all.

Just like everyone else, I suppose, so there`s little point in elaborating.
A favourite quote....."When I examine myself and my methods of thought, I come to the conclusion that the gift of fantasy has meant more to me than my talent for absorbing positive knowledge".....Albert Einstein
Which can be a bit disturbing, sometimes.
---

---
Messages left for this Researcher

Posted
Conversation Title

Latest Post

Latest Reply

No Posting

No Posting
Title

Status

Created

This user has no Entry subscriptions
Most Recent Approved Entries
This user has not written any Approved Entries.
Disclaimer
h2g2 is created by h2g2's users, who are members of the public. The views expressed are theirs and unless specifically stated are not those of Not Panicking Ltd. If you consider any Entry to be in breach of the site's House Rules, please register a complaint. For any other comments, please visit the Feedback page.
This user has no Bookmarks