John Luke
Researcher U185272
John Luke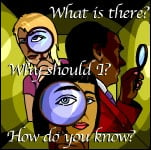 As the name suggests, I am a Star Trek fan (also middle-aged and bald), but I'm not a fanatic. I have enjoyed science and science fiction since I was a teen-ager and still do.
I am also interested in Mathematics, History, Language, Astronomy, Calligraphy, Formula One, Philosophy, Cats, Computers and DIY, but not necessarily in that order.
Credentials: 18 - 5 + 27 + 2 = 42!
Hoping for peace and sanity in these troubled times.
---
Useful Links (for me)
Bilingual Baby Alphabet
---
Interesting Links (Well, I think so...)
The Atheist Project
Messages left for this Researcher

Posted
Conversation Title

Latest Post

Latest Reply

No Posting

No Posting

No Posting

No Posting

No Posting
Title

Status

Created

This user has no Entry subscriptions
Most Recent Approved Entries
Disclaimer
h2g2 is created by h2g2's users, who are members of the public. The views expressed are theirs and unless specifically stated are not those of Not Panicking Ltd. If you consider any Entry to be in breach of the site's House Rules, please register a complaint. For any other comments, please visit the Feedback page.
This user has no Bookmarks