The Black Racoon Member of SAS, Muse of Towels and Dragon lore
Researcher U179189
The Black Racoon (17+9-1+8+9=42)
RENOVATION IN PROGRESS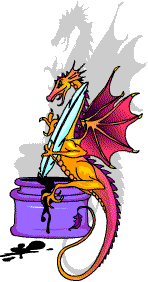 Hi, I am the Black Racoon. You may ask why the name, well my favorite animal was always the racoon and as a young girl I invented a cartoon character/superhero who I called the black racoon. I added black coz the racoon sounded quite lame. As I got older it became more of an alter ego but i'm a bit old now for that kinda stuff.
I'm also a huge dragon fan (some may say obsessed), but you will understand that better after i finish renovating my page.
How it began
My mother was a fan of the hitchhikers guide to galaxy books and they have always been in our bookcase at home. When I heard my friends talk about them I thought why don't I read them and I really enjoyed them.
My hobbies include art and not much else but I am a fan of sci-fi and fantasy TV including Star trek and Xena. Also bizzarly pokemon(I know its sad, my friends think so too especially when I bore them with interesting evolution facts).

H2g2 People and Places
This is just a short paragraph to say these are people who know more about h2g2 than me.
Goti (fish) ACE
Cupid stunt STILL wearing a black armband in morning
And some great sites on H2G2.
SAS With towels comes SAS, calling for new smilies.
The H2G2 Natural History Museum Where i'm an exhibit.
The Musehome And Museroster Fun! Fun! Fun!
My bar, The Hangover Haven Come in and recover, ramble or get a towel.
Crazy Smiley Catch it if you can!
Well thats it for now more will be added as I think of it, Thanx

Conversation Title

Latest Post

Latest Reply

No Posting

No Posting

No Posting

No Posting

No Posting
Title

Status

Created

This user has no Entry subscriptions
Researcher Details
Name: The Black Racoon Member of SAS, Muse of Towels and Dragon lore

Most Recent Approved Entries
This user has not written any Approved Entries.
Disclaimer
h2g2 is created by h2g2's users, who are members of the public. The views expressed are theirs and unless specifically stated are not those of Not Panicking Ltd. If you consider any Entry to be in breach of the site's House Rules, please register a complaint. For any other comments, please visit the Feedback page.
This user has no Bookmarks