Azara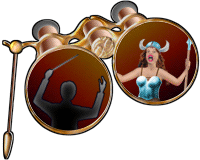 Thoughts on the Edited Guide
I took a couple of years' break from submitting entries to PR, though I was commenting on and off during that time. Surveying my entries after that gap, I've crystallised some of my feelings about the Edited Guide and PR:
The entries I'm least impressed by are the ones you could call 'mainstream':
Verdi, the Flowers of the Burren, Bram Stoker. I think h2g2 is at its best (compared to Wikipedia) when we have entries that are either quirky and unusual, or that make lots of unexpected cross-connections. I think that Castrati, Sir Boyle Roche, and Sheela-na-Gigs are eyecatching becuase the subjects are a bit off-beat, while Amber, the Ash Tree, the Seven Deadly Sins and the Monument all make interesting or unexpected cross-connections.
So, now that I'm back writing, I intend to concentrate on the quirky or cross-connecting style of entry: I hope the ones I have in PR now (go and look!) will live up to expectations!
Edited Entries (23)
Opera
Ireland and Irish People
Nature
Miscellaneous
Messages left for this Researcher

Posted
Conversation Title

Latest Post

Latest Reply

No Posting

No Posting

No Posting

No Posting

No Posting
Title

Status

Created

This user has no Entry subscriptions
Most Recent Approved Entries
Disclaimer
h2g2 is created by h2g2's users, who are members of the public. The views expressed are theirs and unless specifically stated are not those of Not Panicking Ltd. If you consider any Entry to be in breach of the site's House Rules, please register a complaint. For any other comments, please visit the Feedback page.
This user has no Bookmarks