...It's Pronounced sen-KRAY-ah...
... but really, I was just getting sick of seeing a dozen or more 'catwomans' everywhere I went.
I was born in Tacoma, WA, but moved within a few weeks to the Hawaiian Islands, and was stranded there for almost two decades.. (Insert quippy bit about Ford Prefect being stuck on Earth for almost that long, and how he ended up...) More precisely, I roamed around a spot of land called Kona on the biggest island in the chain commonly known as The Big Island. (Actually, the island's official name is Hawaii, so as to avoid confusion the locals call it The Big Island. No, they're not very good about romantic, inspiring names.)
I graduated with honours from Konawaena (koh-nah-WHY-nah) High School. (Second only to some school in Alabama in highest births per enrolled capita in the USA!). I am currently attending Southern Oregon University, and am having a lot of fun here.
As for a bit about me (as opposed to hapless coincidence and things like birthplace which don't really tell you anything about a person at all) Um.... Okay. I'm majoring in Art (I should mention that that's "Art" with an emphasis in CG, just in case anyone is rolling their eyes right now...don't look at me like that... what major were you? Communications???), anyway, the way I figure it, it's at least something marketable. I introduce myself as an aspiring sell-out to depertment staff, and in an odd way, they can usually respect that. I am also very active in the local SCA branch, the shire of Glyn Dwfn of the Principality of the Summits of the Kingdom of An Tir, and yes, I would not only be one of those notorious "Lovely Ladies of Glyn Dwfn (and Colin)", but I also happen to be one of the Goslings-- one of the two. Idonea at your service.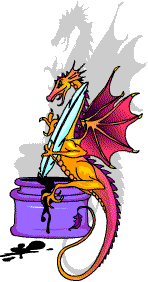 Messages left for this Researcher

Posted
Conversation Title

Latest Post

Latest Reply

No Posting

No Posting
Title

Status

Created

This user has no Entry subscriptions
Most Recent Approved Entries
Disclaimer
h2g2 is created by h2g2's users, who are members of the public. The views expressed are theirs and unless specifically stated are not those of Not Panicking Ltd. If you consider any Entry to be in breach of the site's House Rules, please register a complaint. For any other comments, please visit the Feedback page.
Cenchrea has no Followers
This user has no Bookmarks