The H2G2 Vegetarian Society
Announcements | Members | News | Links | Contact HVS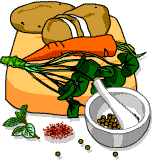 Welcome to the official homepage of the H2G2 Vegetarian Society (HVS).
This is the place for vegetarians of all sorts to discuss issues and find resources concerning vegetarianism, and to meet other like-minded researchers. The only requirement for official membership is that you are a vegetarian/vegan, or you are seriously considering becoming one1. Members will receive a link to their homepage, and there is no obligation to contribute in any particular way2. It is suggested you subscribe to this page, to be kept up-to-date with what's happening in HVS.
The HVS homepage has now been fully updated. We hope you like the new navigation bar at the top, and find this page easier to navigate. If you have any comments or suggestions, please post them below.
Announcements
Due to the sad departure of Pegasus3, and time restraints for fords, we have a new researcher on board to take their place, psychocandy, who promises to carry on the good work.
If you would like to join, please use the signup thread below - it's very hard to keep up with new requests sometimes when there are lots of other threads!
HVS Members
We now have over 100 members! Use the box below to go and say hi to one of them, or click on the link to view the full alphabetical list of our members. We guarantee they don't bite!
HVS Members2619988425æAfraelAlecTricianAnushodhakArpeggioAtariAthenaAuralyraBack AchebaggyfishbeanfotoBluesSliderCabbyCaframCakewalkerCHawkechristirose-Haribol!Cupid StuntCurator ChickDastardlyDemon DrawerDr PrunesquallorDoWdonone1EggnogElls_BellsExistential ElevatorExpatChickFerrocFord CortinaFord PrefectFreedomFritzOnlineGedgegoshoogoshoogoshGreebo T. CatGrief, Torment, Terror and Despair - LeKZ are here no more!GromiGuizangGwennieHendrixwIndefatigableIngisimIorethIskandarJack NaplesjasegroomJeffreyBarJMCJoe CJubJubKbyteSecKCKessKing Wolfkylie_mayLeri IILeopardskinfynnLonefaeryLord High Wombat of GleeLucreciaLux RothchopmacvetmadmazMaPMathnerdMickey Thomas' Right FootminichessemousemkorsakovmockturtlMr Xmrs the wifeNitenNjanNo-Longer Destroyer of ham sandwichesomylouseonetyredguyOscarOtis of the foggy feetPeaceful EarthlingPegasusPierceThe Pink DandelionpsychocandyRagazzaResearcher 191652RegorReniroadtripchickRocket ManRuppingerSalamander the MugwumpSaraSeagull's Lost HorizonSemisomna the...um...Eternal...or somethingShoSimon the FrogsinistercoincidenceSpitfireswinehundtalenetechnoyokelTerri and YodaThe Caffeine KidThe CheeseThe Snockerty FriddleThree Of EightTinkerbellTraceyUncooked Meat Prior to State Vector CollapsevegidolphinvegantoovogonpoetWerekittyWolfmanYeliab SalohcinZarquon's Singing Fish!ZarniroopZmrzlina
If you're a vegetarian, vegan or are thinking of becoming animal-friendly and would like to join the society, please contact us by one of the methods listed below.
Member of the Month
We are hoping to relaunch the Member of the Month feature again soon. This is an opportunity for our members to get to know each other a little better, and see what else they have in common. All that is required is to answer a few simple questions4, in as much detail as you choose. If you would like to be one of our first interviewees, please mail us.
News and Events
Topical news items will be posted here. If anyone would be interested in taking on the post of News Scout to keep an eye on the press and Net for items that would interest our members, please let us know below, or mail us. Thanks.
You can still view previous news items by following the link.
Links
The HVS Virtual Vegetarian Restaurant is the place to find veggie recipes, tuck into a virtual meal or throw a party!
H2G2 Articles
External Links
Keeping In Touch
Please post any topics of interest, questions, or even general chat in the forums below, and on our linked pages. We would particularly welcome links to related Web pages, whether on h2g2, BBCi or elsewhere on the Internet.
Contact HVS
HVS is currently run by U194479. You may contact us by posting to any HVS forums, or dropping by our personal spaces.
You can also e-mail us at h2g2veggies@gmail.com..
How You Can Help
HVS is run by its members for its members. Your input is always welcome. Please keep us informed of any topical conversations and entries you find here on h2g2, and let us know of any other relevant vegetarian news items, events and Websites.
Please link to us from your Personal Space5, and mention HVS to any other vegetarians you meet on h2g2 or the Net. Thank you!
Discussion
We encourage people to discuss anything vegetarian related in the threads, and we will occasionally prompt a specific discussion.
Page last updated: 3 February 2007
1Everyone who considers themself to be a vegetarian is welcome, from religious vegans to ovo-lactos with moral objections, to people who just don't like the taste of meat, and everything in between.
2Although a reciprocal link to HVS from your space would be appreciated
3No, I'm not dead! Just not on h2 very often any more - Sus xx
4Sent to you by e-mail.
5Cut-and-paste code will be available shortly.
Messages left for this Researcher

Posted
Conversation Title

Latest Post

Latest Reply

No Posting

No Posting

No Posting

No Posting

No Posting
Title

Status

Created

This user has no Entry subscriptions
Most Recent Approved Entries
This user has not written any Approved Entries.
Disclaimer
h2g2 is created by h2g2's users, who are members of the public. The views expressed are theirs and unless specifically stated are not those of Not Panicking Ltd. If you consider any Entry to be in breach of the site's House Rules, please register a complaint. For any other comments, please visit the Feedback page.
This user has no Bookmarks