Thewyrdsister (13-01+9+21=42), Thursdayite!
Researcher U1301921
I'm still working on the interior of this planet, but one thing is for certain: there will be loads of books!

Favoutrite Authors include:
Terry Pratchett
Douglas Adams
J.R.R. Tolkien
Anne McCaffrey
Isabel Allende
Svend Aage Madsen
Lloyd Alexander
Astrid Lindgren
Knud Holten
Marianne Frederiksson
Ursula K. LeGuin
A. A. Milne
C. S. Lewis
Michael Ende
Diana Wynne Jones
Richard Bach
(Still under construction)
There will also be music:






...allthough I'm not yet sure of whether it's all going to be played by mermaids or not...
Music I like:
Anything by Sting
Classical music (mozart, tchaikovskij and Händel being some of the favourites)
Latin-rythms
Folklore from almost any part of the world
Lisa Ekdahl
The Beatles
Elvis
Soundtracks
(This list will become longer)
There might be a few dragons as well.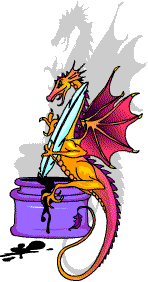 And there most certainly will be a lot of dancing going on, come rain or come shine ;)


I'm a member of the Craftguild:

I'm a member of
H2G2's United Friends
And a member of
The Nordic Researchers Club
The Language Thing:
The Learning Danish Thread
Messages left for this Researcher

Posted
Conversation Title

Latest Post

Latest Reply

No Posting

No Posting

No Posting

No Posting

No Posting
Title

Status

Created

This user has no Entry subscriptions
Researcher Details
Name: Thewyrdsister (13-01+9+21=42), Thursdayite!

Most Recent Approved Entries
This user has not written any Approved Entries.
Disclaimer
h2g2 is created by h2g2's users, who are members of the public. The views expressed are theirs and unless specifically stated are not those of Not Panicking Ltd. If you consider any Entry to be in breach of the site's House Rules, please register a complaint. For any other comments, please visit the Feedback page.
This user has no Bookmarks