Floh Fortuneswell
Researcher U123888
Floh's marketplace
I am
Founder of
The-my-real-name-is-Chris-Club
Pirate aboard
The Blood of the Zaphodistas
Kilakanega of
The Church of the Holy Tail
an exhibit of
The Natural History Museum
Officer in charge of Mash Potatoes at
The Potato Army HQ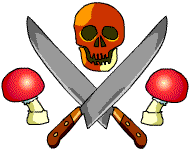 The Potato Army
Soldier of
S.P.U.D: the Secret Potato-lovers' Undercover Division
ACE
regular visitor of
Bolle's Berliner Buletten-Bude
resident in
Camelot (A place of enchantment and participation)
and in remembrance of the love of my life
tuc fortuneswell
I'm also a member of
Clipboard's Cynics-Guild
The GerManiaConnection
The Living Earth Society
The Peter Panners Society
and
The United friends of H2G2Space
...and haunt...
The researchers' birthdays page
The New Researchers' page
and the
Statistics
Alternatively try
ICQ #61001098
And in case you want to know where you are click here
Messages left for this Researcher

Posted
Conversation Title

Latest Post

Latest Reply

No Posting

No Posting

No Posting

No Posting
Title

Status

Created

This user has no Entry subscriptions
Most Recent Approved Entries
Disclaimer
h2g2 is created by h2g2's users, who are members of the public. The views expressed are theirs and unless specifically stated are not those of Not Panicking Ltd. If you consider any Entry to be in breach of the site's House Rules, please register a complaint. For any other comments, please visit the Feedback page.