Shirps
Researcher U1178788
Pisces - Monkey - Dragon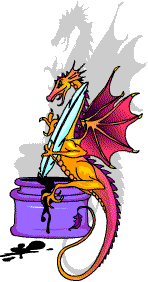 Hi again - I'm back!
My old details are still alive and kicking, if you care to look:
I am NOT a number - I am a human being (I think!)
Updates to my previous details:
I
am now remarried: 01 March 03, which happened to be St David's Day and by sheer coincidence I wore yellow! I have no Welsh connections of which I am aware, other than my grandfather served with the South Wales Borderers during WWI (yes, the Rourke's Drift regiment, but later!). My husband is now a grandfather for a second time. I'm just waiting:
My daughter has been awarded her doctorate in scientific research and was wed on 11 September 04, only 10 days after sitting her final viva

Yes, I'm a VERY proud mum
She has now made me a nan - yay! Kathryn was born on 21 January 06, 8lb 7oz

Holly
is getting greyer each day (her birthday is 24 March 95 - she doesn't expect any birthday cards though

Her mother was a cross between a Whippet and a Jack Russell (they seem to get everywhere!), but she came from Wood Green Animal Rescue centre and no-one knew she was pregnant, so Holly's father's credentials are unknown

She really is more like a human than a dog so don't be surprised:
Holly's favourite tipples are doggy chocolate, fish and white wine - really! She will chase an empty white wine bottle round the floor continually licking the spout (of course she would prefer it not to be empty!
My fav tipples are

, high cocoa solids

and a good malt whiskey ... and maybe a really good brandy if there is any going!

- what the hec! I am still smoking, but am working on giving up,

- again! I'm a Pisces born in the year of the Monkey ... and the dragon connection? - part of my character maybe

, but I do have a rather soft spot for them

I wanted a motorbike when I was a teenager: my mother rode one when she was young, my father did (especially during WWII) and my elder brother did for years, but when it came to me? - "NO! far too dangerous!" - this was as far as I got!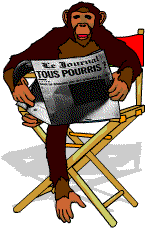 Ah well, better get back to doing something: working on Art Society stuff

NB: No more - I resigned after 11 years in September 05
so I can do what I really prefer: talking and reading, mainly books - a mixture of subjects, but I do try to keep up with the news too - when Holly doesn't crash land in the middle of the paper!
Cheerio for now - hope you enjoyed reading all, well ... some, maybe ... a bit of this

drivel - there is more on
my old page
Messages left for this Researcher

Posted
Conversation Title

Latest Post

Latest Reply
Title

Status

Created

This user has no Entry subscriptions
Most Recent Approved Entries
Disclaimer
h2g2 is created by h2g2's users, who are members of the public. The views expressed are theirs and unless specifically stated are not those of Not Panicking Ltd. If you consider any Entry to be in breach of the site's House Rules, please register a complaint. For any other comments, please visit the Feedback page.
This user has no Bookmarks